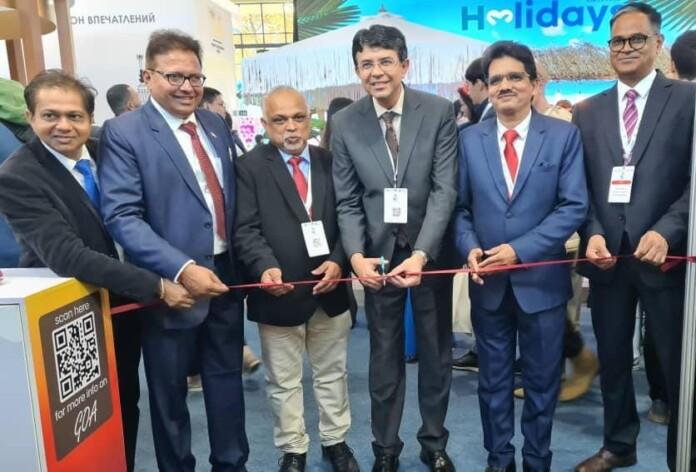 Tashkent, Uzbekistan : In an effort to highlight the rich and varied tourism attractions of Goa, the Goa Tourism delegation enthusiastically took part in the Tashkent International Tourism Fair held in Tashkent, Uzbekistan. Recognized as the most prominent and expansive event in the entire Central Asian region, this fair offered an outstanding opportunity to showcase the distinctive aspects of tourism in Goa.
The Indian Embassy in Uzbekistan played a key role in supporting Goa Tourism by generously providing space for the setup of the Goa Pavilion. The inauguration ceremony was an honored affair, with the Goa Pavilion being inaugurated by Mr. Manish Prabhat, the Ambassador of India to Uzbekistan, in presence of Dr. Anand Tripathi, Advisor, Mr.Dipak Narvekar, Deputy General Manager of the Goa Tourism Development Corporation (GTDC), Mr.Sagar Agni,Media Advisor to the Tourism Minister of Goa Shri. Rohan A. Khaunte along with Mr. Rajesh Badola, Head of the Consular Wing. Mr. Manish Prabhat expressed his support for promoting Goa Tourism and offered assistance from Uzbekistan in this endeavor.
During discussions, Mr. Manish Prabhat suggested positioning Goa as a Medical Tourism Hub, given the high demand for quality medical treatments among Uzbek citizens. He also emphasized the need to promote Goa among tour and travel agents in Uzbekistan and nearby Central Asian countries.
Mr. Manish Prabhat commended Goa Tourism for going beyond the traditional perception of the destination, applauding their efforts in promoting Goa's diverse offerings, including beaches, yoga, wellness, Ayurveda, eco, spiritual, heritage tourism, and local traditions and festivities. He specifically appreciated the promotion of Goa's age-old traditional Mud Festival, Chikhalkalo.
The Goa Tourism delegation, led by Mr.Deepak Narvekar, Deputy General Manager of the Goa Tourism Development Corporation (GTDC), and Mr.Sagar Agni, Media Advisor to the Tourism Minister of Goa, engaged with prominent tour and travel agents, charter operators, and airline representatives from Uzbekistan, China, Kazakhstan, and other regions. Charter operators from Uzbekistan expressed a keen interest in operating charters from Uzbekistan to Goa.
The Goa Pavilion received an overwhelming response from visitors at the fair, making it a highlight of the Tashkent International Tourism Fair. The fair, supported by the World Tourism Organization (UNWTO) since 1995, attracts tourism professionals from around the world.
On November 16th, 2023 there will be a dedicated Goa show at Hotel RAMADA, Tashkent, where investment and travel partners will actively participate. Concord Exotic Voyages, a prominent tour operating agency, also showcased its support for Goa Tourism by participating in the Goa Pavilion.
Goa Tourism looks forward to fostering stronger ties with Uzbekistan and neighboring countries, leveraging this successful participation to attract more visitors to experience the beauty and cultural richness of Goa.