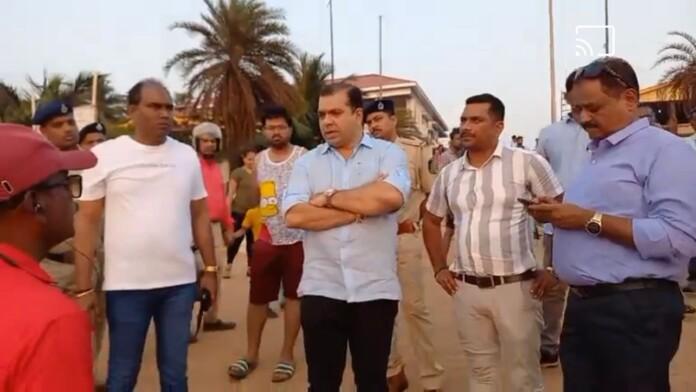 Panaji: Goa Tourism Minister Rohan Khaunte on Sunday paid surprise visit to the beaches at Calangute, Candolim and Baga during which he conceded to have encountered several illegalities.
Khaunte told reporters that the beach shacks have extended their designated areas congesting the beaches while during his visit, he also encountered illegalities in Water Sports activities at Baga beach.
Interestingly, when the minister was going around Baga beach accompanied by Police and Tourism Department officials, one of the tourist brought to his notice about the overcharging by a water sports operator.
The tourist was seen complaining to the minister that while parasailing is charged at Rs 800 per trip, the operator had billed him Rs 3,000.
The minister immediately asked the Tourism department to suspend the operation and informed that the state-run Goa Electronic Limited (GEL) will set up its counter at the beach, regulating the entire activity.
Talking to reporters, Khaunte said that the entire beach stretch at Calangute right from the road till the Sea has been encroached, illegally. "We have found that the beach shacks have exceeded their designated areas while the deck beds have been put up at the non-designated places," he said.
The minister has asked the respective owners to take corrective measures within 24 hours or face the action as per the law.
Khaunte also said that the strict action would be taken against the illegal touting and hawking happening at the beach stretches.
He said that the action would be taken across all the beaches of the state eliminating the illegalities. "We want to give good experience to the tourists," he said.