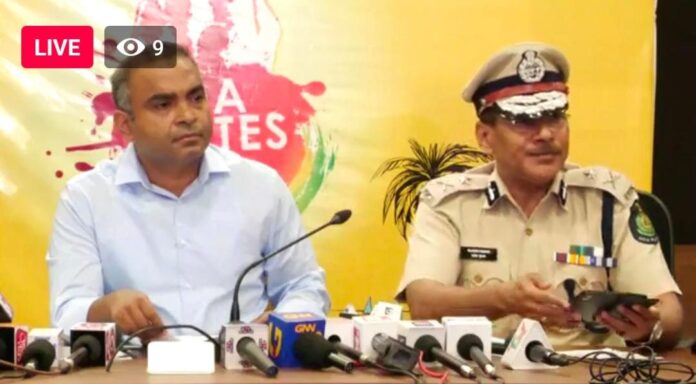 Panaji: Goa on Monday reported 78.94 percent of voting for all the 40 State Legislative Assembly constituencies, with the entire polling being conducted in peaceful manner.
Addressing a press conference, Chief Electoral Officer Kunal said the highest at Sankhalim assembly constituency in North Goa with 89.61 per cent while lowest at Benaulim which is 70.20 percent in South Goa. He said that total percentage of voting was 78.94 across all the 40 assembly constituencies.
Kunal said that this is a tentative percentage of voting, while the exact data would be available later in the evening. The CEO said that the data of the voting through ballot paper will also be added to it.
He said that the percentage will cross 80 per cent after counting of the ballot papers.
He said that that there were 1.64 lakh electorals out of which nine transgender electorals. "The biggest assembly complex is Vasco da Gama, smallest was Mormugao constituency," he said.
Kunal said that there were  298 service electorals, 9590 persons with disability and 29,000-odd persons with 80 years and more electorals. "They were identified as absentee voters, 13150 postal ballots were issued and total 12,546 casted their vote through postal ballots," he said.
He said that polling was held at total 1722 polling stations. There were 105 all women polling station, eight stations managed by persons with different ability and eleven were green polling station, Kunal said.
During silent period violation of 126 of Representation of People's Act was observed after which 30 individual posts were deleted because they were violating the law, the CEO said.
He said that total 80 candidates had criminal antecedents, which were published in the media before the polls. The publication was done as per the mendate of the supreme court.
A senior police official said that there was no serious complaint and the election was conducted in the peaceful manner.
He said that three FIRs were registered during the day. In one of the case, car of a person , who is related to a political party leader was set on fire at Bicholim, while at Sanvordem a person was found with a cash.
He said that total cash seizure is Rs 6.06 crore during the code of conduct. "The biggest chunk was Rs 6.20 crore which we helped the income tax department to seize," the official said adding besides that liquor worth Rs 3.57 crore was also seized during the code of conduct.