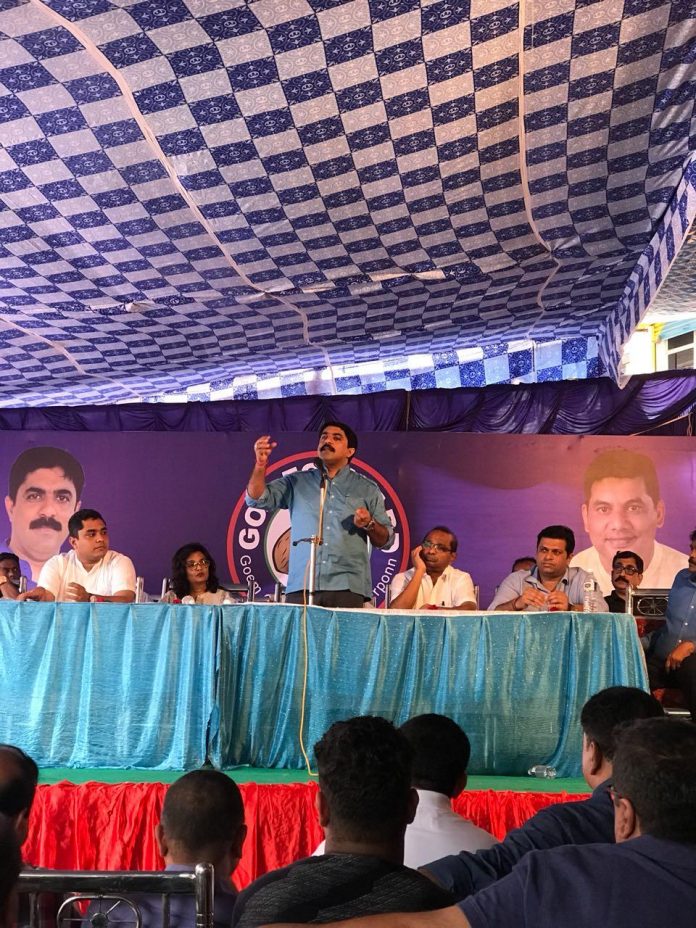 Ponda: Goa Forward Party will not be just three MLAs and three ministers party after next State Legislative Assembly elections, party President Vijai Sardesai said announcing their foray in Ponda taluka,  writing-off its image as Salcette-based party.
Sardesai who launched Rajesh Verenkar as the candidate of the party from Ponda constituency hinted at spreading in other areas of the state.
"Goa Forward Party is going to be pan-Goa party which will have organic growth after taking into confidence people from all the section of society," Sardesai said.
Interestingly, Rajesh is son of former Ponda MLA Shivdas Verenkar who had won the election on MGP ticket from this constituency. Sardesai said that Goa Forward Party has come to Ponda with long term planning. "We want you all us to test us and if we pass the test then elect our candidate," said the minister.
The party has assured that at least once a month one of its minister would be available for people in Ponda office.
Indirectly hinting at Ponda MLA Ravi Naik, Sardesai said that there should be certain age for retirement in politics and some of the leaders are due for retirement.
"Also many young people come during the eleventh hour ahead of election and then cheat people. We have given young face much in advance to you," he said referring to Verenkar.
The GFP chief also assured a master plan for Ponda, which will reflect the character of the city.
Sardesai said that the parties like Congress and MGP have been practicing  'family raj' politics, which is not the case with GFP. "We are here to give you true leaders who will work for the society," he said
He pointed out that GFP was the first one to start its taluka office in Ponda.
Housing Minister Jayesh Salgaoncar stated that the party believes in taking along all the people. He claimed that the party is an epitome of Goenkarponn and believes in delievering the promises.
Water Resources Department minister Vinod Palyekar credited his victory from Siolim constituency to Sardesai and recalled how everyone had ganged up against him during the election.
He said that Goa Forward Party has given representation to Bhandari Samaj, which has not given by any other party.
Party leader Prashant Naik said that the introduction of TDR is a historic step which will help to preserve the ecology of the State. Naik said that during the next election, the parties like MGP and Congress would be wiped out while GFP will grow further in the state.
GFP's General Secretary Mohandas Lolienkar said that the party will not need any alliance during next election and will win majority seats on its own.
GFP Vice President Durgadas Kamat said that the party has been playing smart politics and is all set to work in all the panchayats and municipalities across the state.
He said that the real example of party's dedication towards people is Dubai style SGPDA market, which was constructed within six months.