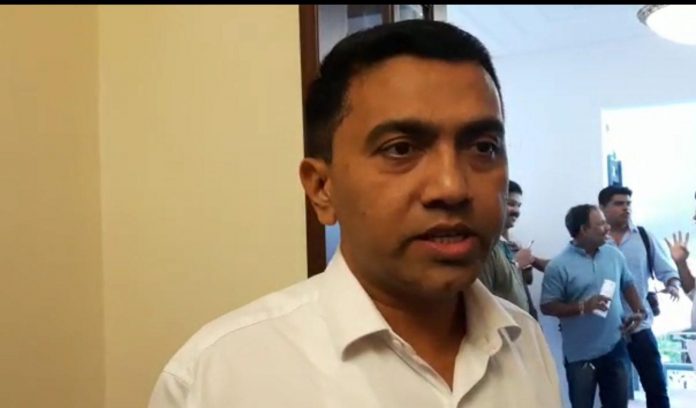 Panaji: Chief Minister Pramod Sawant on Wednesday appealed the Plastic industry players to look at Goa as the investment destination considering the schemes and incentives provided by the state governemnt.
"Government of Goa is providing very conducive climate to the industry. There are many schemes and incentives for the industries interested in investing in Goa. I would request the industry in exploring Goa as investment destination," Sawant said addressing the delegates during Global MSME Convention for Plastic Industry in South Goa on Wednesday.
He said that Goa is traditionally known as tourist paradise but it also has robust presence in knowledge based industries. "Industries such as IT, pharmaceuticals, bio technology are doing very well. Plastic industry is the major industry which provides packaging and moulded items to pharma, electronics industry," Sawant said.
The chief minister said that Agriculture is a sector where plastic can play a major role in improving the productivity, yield and in turn farmers income.
"I would be nice if All India Plastic Manufacturers' Association (AIPMA) can organize an exhibition and conference in Goa specially on use of Plastic in Agriculture so that income of farmers can be increased," he added.
The chief minister pointed out that the plastic industry is spread all across the nation and has 50,000 plastic processing units, 10000 plus recycling units and innumerable end users which guarantees powerful chain of plastic products in the country and also provides direct employment to around five million of the population.
"The industry has nearly 3000 plus exporters. Majority of the plastic industry units are micro, small and medium sized enterprises," he said.
Sawant said that the plastic industry plays an integral role when it comes to cater the industrial as well as domestic demands. Plastic industry nearly full fills the daily requirement of the clothing, automobiles, electronics, construction, irrigation, packaging, medical appliances, housing and household items, horticulture, agriculture and furniture industry.
"Since last five years' plastic industry has grown enormously and showing an uptrend in demands in the coming years as annually growing with the rate of 13 percent," he added.
Sawant said that the plastic industry is expected to reach Rs. 10 Lakhs crores annual turnover by 2027. The exports are expected to increase to Rs. two Lakhs core by 2027. It is expected to give employment to one crore person in another 5 years, he said.