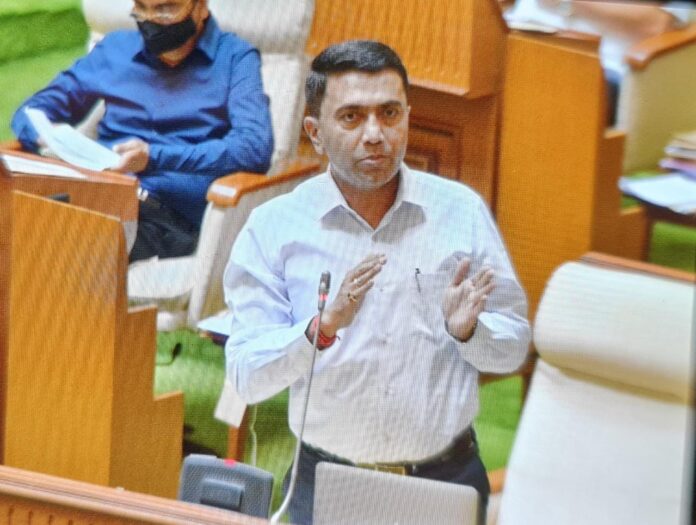 Panaji:  Asserting that the state government has injected fiscal management even during COVID-19 pandemic times, Goa Chief Minister Pramod Sawant on Thursday said that the state will borrow less during the next Financial Year, compared to this year.
Sawant said that the state government has began exercise to tap on the central government's schemes to decrease its dependency on borrowings to meet up the expenditure.
The Chief Minister was responding to the various issues related to fiscal responsibility raised by the opposition benches during presentation, discussion and voting on Supplementary Demands for Grants for the Year 2020-21.
Countering the allegations of Opposition Benches of procuring huge loan by the State, the Chief Minister said that as per the data of Reserve Bank of India (RBI), compared to all other states in the country, "Goa is the state which borrows minimum."
"We borrow even lesser than Mizoram," he added.
Sawant said that the state government has borrowed Rs 2,400 crore for the current fiscal, which would be reduced further for the next FY.
The Chief minister said that the state government has already started revising the loans swapping them with the borrowings with the lesser interest.
"We are also tapping various schemes of government of India to make up for the fiscal," he said.
Sawant said that the some of the state government departments had failed to submit Utilisation Certificates for the funds procured from the central.
"Some of the certificates are pending since last ten years. We have started clearing the backlog of the certificates, which will be completed by March 31, 2021," he told the House.
Stating that the state government is restructuring the loans, Sawant said that the loan procured from LIC with interest of 13 per cent has been repaid. "The loan taken in the year 2008 from the power finance corporation (PFC) by the state government was also repaid," he said.
The Chief minister said that the state will swap the loans to NABARD which provides the fundings at a lesser rate of interest, that is 2.5 per cent.