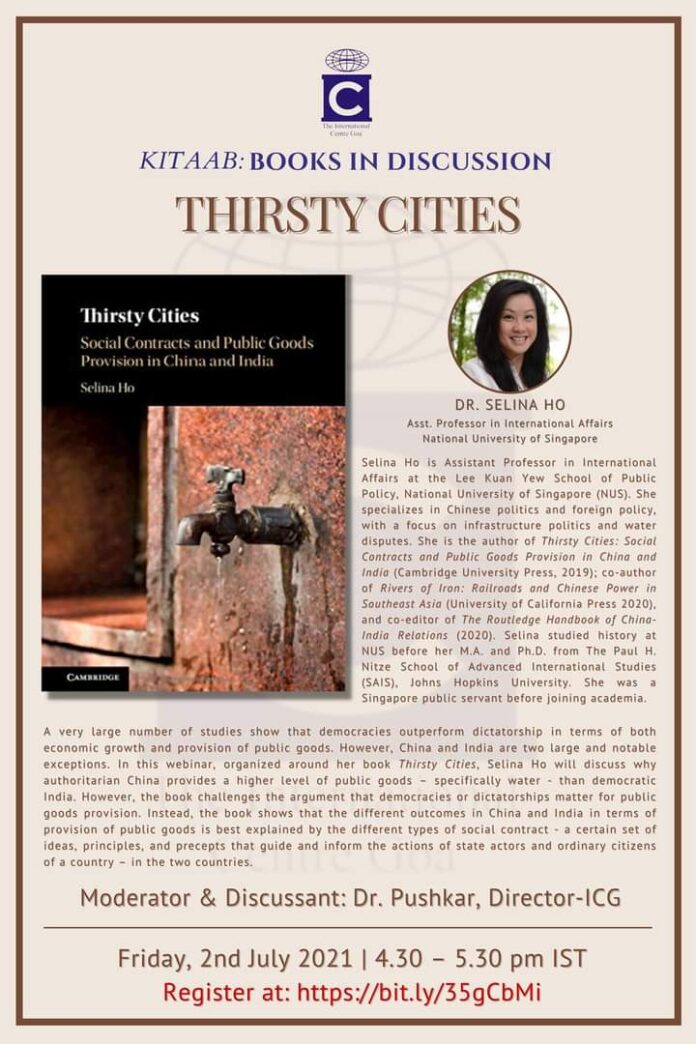 Panaji : Dr Selina Ho who is an assistant professor in International Affairs at National University of Singapore and has written 'Thirsty Cities – Social Contracts and Public Goods Provision in China and India' she  will discuss why authoritarian China provides a higher level of public goods, specifically water – than democratic India.
Dr Selina Ho specializes in Chinese politics and foreign policy, with a focus on infrastructure politics and water disputes. She was a Singapore public servant before joining academia.
A very large number of studies indicate that democracies outperform dictatorships in terms of both economic growth and provision of public goods. However, China and India are two large and notable exceptions.
The programme 'Kitaab: Books in Discussion' will be held at International Centre Goa (ICG) on July 2 the Discussion will be held on Dr Selina Ho's book. The moderator and discussant will be Dr Pushkar, director of ICG. The programme will be held on Zoom Live on July 2 from 4.30-5.30 pm and those interested to attend can register at: 
https://bit.ly/35gCbMi
.
Dr Ho's book challenges the argument that democracies or dictatorships matter for public goods provision.