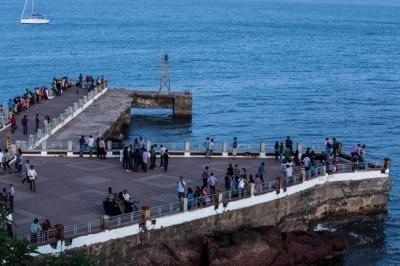 Panaji: The North Goa District Magistrate has ordered closure of portion of Dona Paula jetty for ensuring safety of the citizens as it is set for redevelopment.  M/s Imagine Panaji Smart City Development Ltd will be undertaking redevelopment of the jetty, which is tourist hot spot.
The District magistrate has issued order to various agencies to undertake measures like Corporation of City of Panaji will arrange to erect adequate signages displaying the information regarding this order of closure of jetty portion starting from NIO circle and at all other important locations and route up to the jetty.
CCP and superintendent of Police (Traffic) has to ensure proper relocation of the existing vendors at the Dona Paula jetty site without causing hindrance to traffic until the redevelopment of the jetty is undertaken.
Electricity Department should ensure disconnection or removal of power supply to the closed portion of the jetty and elsewhere to prevent any untoward incident.
The Traffic Police may revise their arrangements for Traffic circulation after making proper assessment as per the requirement. The local Police shall keep surveillance or the area and report any violation of order for further action.
Any person or agency contravening this order will be liable for punishment under Section 188 of the Indian Penal Code. The order comes into force from November 5, 2018.