Panaji: The much awaited festival of light is here. While this time the festival might be a bit different because of pandemic, Goans seem rather enthusiastic. Diwali, also known as Deepavali, is celebrated across India with great enthusiasm as it symbolises the victory of good over evil. There are five days of festivities, each marked with different pujas. Diwali is derived from the sanskrit word 'Dipavali', which means a row of lights, is celebrated worldwide by Indians.
Diwali is celebrated 20 days after Dussehara. It signifies that Lord Ram killed Ravan and completed his fourteen years of 'Vanavas'. As he came back to his kingdom Ram, Laxman and Sita is welcomed with a row of lights or 'Dipavali'. In Goa people celebrate it a bit differently than North Indians. It is believed that Krishna along with Satyabhama killed the Narkasur and freed sixteen thousand women who were kept hostages. Hence, in Goa young adults make Narkasurs and burn it to signify the victory of good over evil.
Goa News Hub visited Panaji Market to see how people are shopping for the festival of lights. Colour seller Lata's small stall was very vibrant with all the colours of Rangoli. Every Diwali she comes to Panaji market to sell Rangoli and Diwali Lamps. "I have been doing this business for 7-8 years now but this year we received less customers," inferred Lata.
Siddhi Dessai runs a business of firecrackers in Panaji Market. We asked her about her business during this season. "We have all the types of goods, we're just waiting for customers, maybe in the coming days our shop might receive more customer," said Siddhi. She opined that even for Ganesh Chaturthi they received fewer customers as compared to previous years.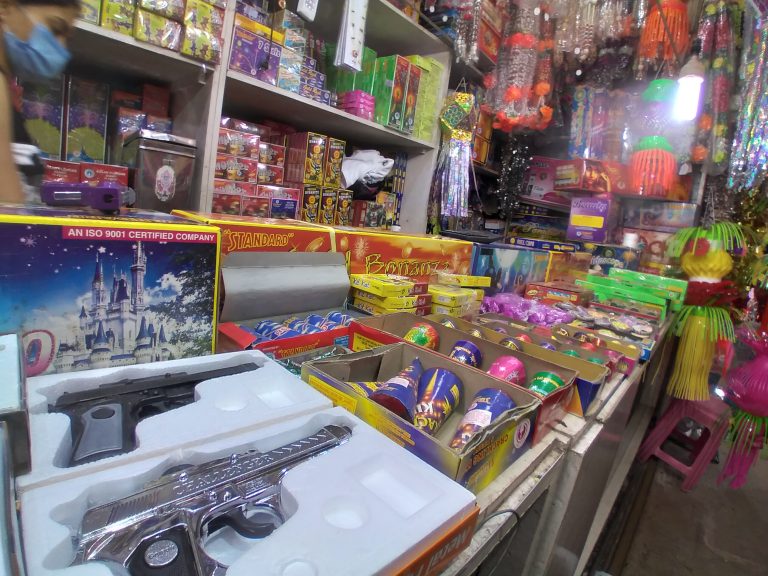 Art shopowner Girish Pinge sells Akashkandil and Narkasur masks, his shop was brightly lit up with all the beautiful lamps and opposite to this he was selling Narkasur masks. Speaking about his business he said this year there is 30% drop in business.
Diwali business for vendors is expected to pick up by Saturday. The markets have been flooded with people who wanted to buy Diwali goods. How are you celebrating Diwali this year? Let us know in the comments section.