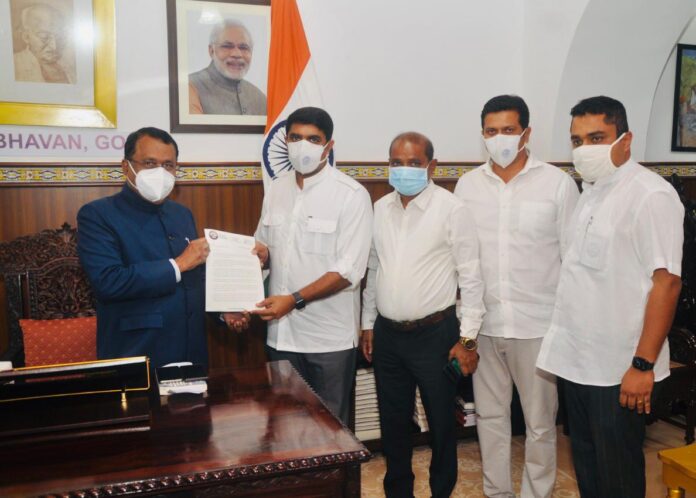 Panaji: Referring to the pointed accusation of the Hon'ble Governor of Meghalaya Shri. Satya Pal Malik that the Chief Minister of Goa is corrupt, the president of Goa Forward Party Vijai Sardesai has demanded the immediate dismissal of the Sawant govt, and President's rule imposed in the state. "Goans will not take this blot of corruption lightly and demand strong action against the culprits". He said.
Vijai Sardesai along with General Sec (Org) Durgadas Kamat, MLAs Jayesh Salgaonkar and Vinod Palyekar called upon Goa Governor Shri. P S Sreedharan Pillai and submitted a memorandum to that effect.
"The Chief Minister must understand that 'Goan pride is not negotiable or up for sale". Sardesai said. The continuation of Dr. Pramod Sawant as the Chief Minister of Goa has become absolutely untenable, and the continued existence of his government, an impropriety and a mockery of all democratic, ethical and moral principles, the strongly worded memorandum stated.
Sardesai has also demanded that the Govt of India order an enquiry under a retired Supreme Court judge into all the dubious dealings by the Govt of Goa. "We see this as a befitting case to approach the High Court with, for registering an FIR against the government, with a Charge Sheet to be filed within 90 days of FIR. Moving expeditiously in such matters of corruption will ensure that the people retain their faith in the Constitution of India."
The memorandum further stated: His (Malik's) accusation that the Chief Minister of Goa is corrupt has been received by the people of Goa with profound shock not because it was something they did not already suspect but because a constitutional body like the Governor was compelled to reveal it publicly.
Sardesai speaking to media persons reiterated that it is imperative that strong action be taken against Pramod Sawant government which is the only way to restore confidence of the people in the concept of a democratic government.