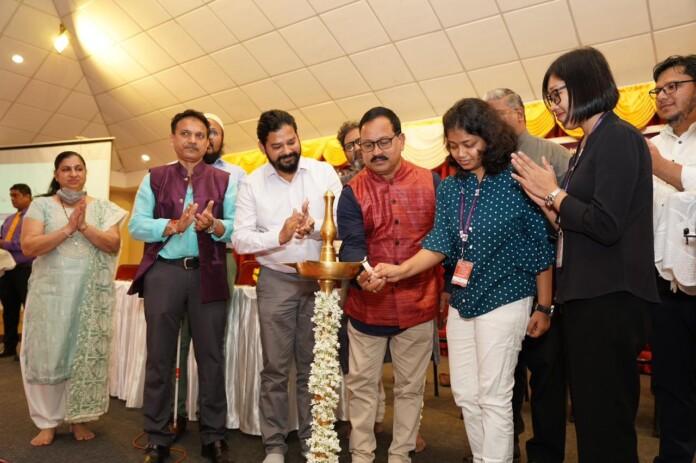 National Training on Deafblindness conducted by Sense International India for Youth and Adults with Deafblindness, Caregivers and Educators underway
January 4, 2023: As a part of Purple Fest that to begin on January 6, a deaf-blind convention was organized by the Office of the State Commissioner for Persons with Disabilities, Goaand the Directorate of Social Welfare, Goa in association with Sense International India and Caritas, Goa. It was held on Wednesday at St. Joseph's Vaz Spiritual Renewal Center, Old Goa.
This convention was inaugurated by the Honorable Minister for Social Welfare, Goa, Shri. Subhash Phal Dessai, in the presence of Member of the Legislative Assembly, Shri. Rajesh Faldessai, State Commissioner for Person with Disabilities, Goa,Guruprasad Pawaskar and Director of Social Welfare, Goa, Smt. Sandhya Kamat. Also present for the inaugural were special guests Shri. Akhil Paul, Executive Director of Sense International India, Shri. Sachin Rizal, Head Capacity Buildingof Sense International India, Smt. Shruti Lata Singh, Person with deafblindness and Specialist Network Support, Sense India, Fr. Maverick Fernandes, Director of Caritas, Goa and Shri. Savio Fernandes, Assistant Director of Caritas, Goa.
This National Convention was attended by 140 participants out of which 40 were adults with deafblindness, 40 are caregiversand 40 were educators for children with disabilities. Theremaining were trainees and resource persons.
The training organized by Sense International India, is known for actively engaging with 80,000+ persons with deafblindnessand multiple disabilities across India to promote comprehensive development and to enable them to become active and contributing members of society.
The National Training will be held till January 6 with an aim to enhance the participants' knowledge on physical, emotional, and social aspects of sex, sexuality and gender.
Subhash Phal Dessai, Honourable Minister of Social Welfarespeaking on the occasion said "I have several other departments to handle but in the last six months, I have spent ninety percentof my time in this department for persons with disability and I know the importance of this fest. These five days will initiate a necessary dialogue to empower persons with disability and create a platform to provide quality education and economic options. In this session people with deafblindness will be encouraged to work to achieve more and integrate themselves into society."
Chief Guest, Rajesh Faldessai, MLA of Cumbarjua said "It is unimaginable that in the next five days, we will all be part of so many events. Persons with disability from across India have started descending to Goa and will get a unique experience in the fest," he said, while he added that the minister Subhash Phal Dessai and commissioner Guruprasad Pawaskar have surpassed expectations to make this event possible and successful.
"This training is to learn some very taboo topics so we want to reach out specifically to persons with deafblindness. Due to lack of communication skills we depend on educators who will be interpreters to teach them about Gender, Sexuality, and Sex," said Gabel Mascarenhas, Project Co-ordinator of Caritaswhere the Sense International India programme is implemented. He also stressed the need for parents to understand and acknowledge appropriate terminologies as they play an important role in the upbringing of their children with deaf blindness. The training will cover complex terminologies, concepts and functions and we are trying to do it all in three days" said Mascarenhas.
The aim of this three-day training is to help youth and adults with deafblindness overcome personal prejudices and discomfort to foster an environment that educates, respects and celebrates diversity in gender identities, sexual orientation and expression.
This national convention has been funded by Azim Premji Foundation, Bajaj Finserv, Dharamsi Morarji Chemical Co., Gas Authority of India, Kamal India Foundation, Sense International UK and Thomas Cook.