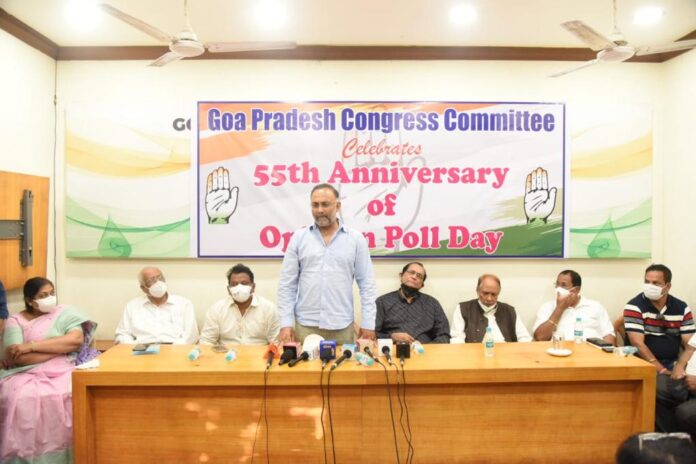 Panaji: The Congress leader Michael Lobo on Sunday stated that Opinion Poll Day is the most important day of Goa and hence it should be honored and celebrated at State level. "We will make it happen once we come to power." Lobo assured.
The Congress leaders on Sunday celebrated the Opinion Poll Day in Panaji office. MP Francis Sardinha, former Union Minister Eduardo Faleiro, Goa In charge Dinesh Gundu Rao, Mahila President Beena Naik, Joe Dais, Dilip Borkar and others were present on the occasion.
"We should respect and remember those leaders, who fought to protect the identity of Goa. I always wished that the government should celebrate this day at the State level. But the BJP never listened to it." Lobo, who recently joined Congress, said.
Francis Sardinha said that had Goa merged in Maharashtra, then it would have become at most one district of it. "We would have not got the opportunity to become MLAs, Ministers and Chief Ministers if Goa was merged into Maharashtra." He said.
He appealed to the people of Goa to defeat BJP, who is working against the interest of the State and people.
Eduardo Faleiro also said that it is a very important day for Goa. "Former Prime Minister Pandit Jawaharlal Nehru, Indira Gandhi and other leaders of Congress played a vital role to protect the interest of Goa." He said
Dinesh Gundu Rao said that it is a historic day and should be celebrated. "Goa has its unique history, culture, language and other aspects. But it would have lost if Goa was merged with Maharashtra." He said.
"Most importantly the both groups(for merger and non-merger), worked in the interest of Goa after the opinion poll. This is also a unique thing." He said