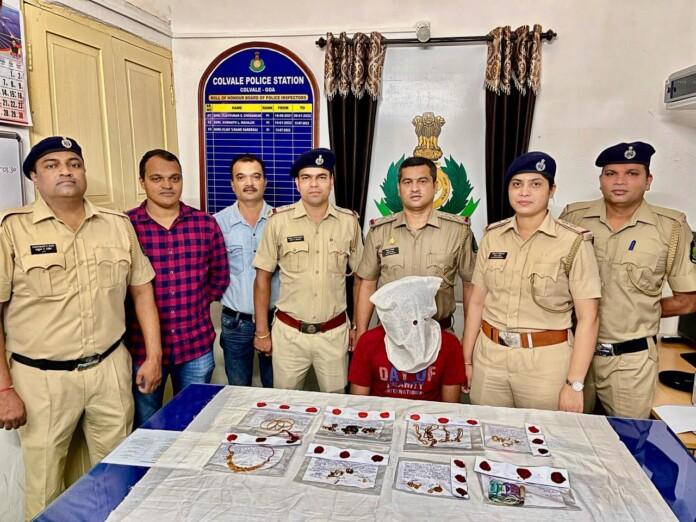 Colvale police have arrested one Uttar Pradesh native for house breaking and theft at Revora, Bardez – Goa.
As per SDPO Mapusa Jivba Dalvi On 27/09/2023 Shri Vinod s/o Vithal Lokre r/o HNo. 280/1, Salchebhat, Revora Bardez Goa lodged his complaint that on 27/09/2023 between 10.30 hrs to 11.00 hrs some unknown accused person effected entry in to his house by break opening the rear door and committed theft of his gold ornaments all weighing 196 grams all W/Rs. 10, 00,000/- approx. and cash of Rs. 1500/- in denomination of Rs. 100 & 50 from the Almirah.
Acting swiftly on the above complaint, the team comprising of PI Vijay Rane, PSI Rohan Madgaonkar, LPSI Sonam Verenkar, HC Rama Naik, HC Rupesh Korgaonkar, HC Pandurang Naik, PC Sulesh Naik, PC Rameshwar Gawas, PC Nikhil Naik & PC Rohit Shetgaonkar got into action and sealed the entry and exit routes of Revora village and all the migrants staying in Revora village were examined.
One suspected person by name Sudhir s/o Ramesh Singh, age 23 yrs, r/o Revora Bardez Goa n/o Uttar Pradesh was apprehended who confess about the commission of crime. Accused has been placed under arrest u/sec. 454, 380 IPC.
All the stolen gold ornaments weighing 196 grams all worth Rs. 10,00,000/- were recovered under recovery Panchanama. The case was solved within 24 hours of reporting.
The recovered gold ornaments consisted of gold bangles, gold necklace, gold chains, gold mangalsutra, finger rings
Five pairs of earring etc.
All 196 grams W/Rs. 10,00,000/- is recovered.
The case is under investigation with LPSI Sonam Verenkar of Colvale Police Station under the overall supervision of SP (N) Porvorim Shri Nidhin Valsan, IPS and SDPO Mapusa Shri Jivba Dalvi.