Panaji:  Chief Minister Shri. Pramod Sawant held review meeting with the Mamlatdar's and Deputy Collectors of all 12 Talukas of Goa. This review meeting was also attended by Secretary Revenue Shri. Sanjay Kumar, Collector South, Collector North and Additional Collectors of both the district.
Special focus of this review meeting was on the disposal of online mutation cases by Mamlatdar's, disposal of Mundkar cases and Tenancy cases also by Mamlatdar's and disposal of  Unauthorised Regularisation of Construction Act cases by Deputy Collectors.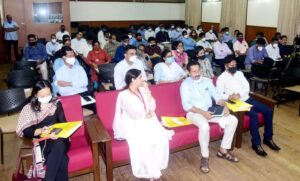 Secretary Revenue presented the figures of disposal of online mutation cases. Here it must be mentioned that almost three month ago, as part of administrative reforms, Govt. of Goa has made the system of online mutation in continuation to registration of Sale deeds in the Sub-Registrar office. This has been done with the objective of making life simpler for the citizens and to cut down the unnecessary delay in the updation of revenue record. However, performance of last three months by all the Mamlatdar's has not been encouraging where some applications have been rejected due to simple and minor shortcomings. Hon'ble CM Dr. Sawant instructed these officers to review these matters Suo-Moto.
Cases of Unauthorised Regularisation Construction Act were also reviewed where there has been seeing slow progress in the last years. Based on a similar review meeting in the month of March 2021 some amendments were brought in the Act.
Hon'ble CM has instructed Deputy Collectors to streamline the process in quick consultation with other state holder departments such as PWD and TCP and expedite disposal. He further instructed both the Collectors to held weekly review of the cases at Taluka level.
Lastly disposal of Mundkar Cases and Tenancy Cases was also reviewed. It was noted that these cases are going in the courts of Mamlatdar's for years and no decision has been reached. CM said that this long delay and unending hearing in the courts of Mamlatdar's defeats the purpose of the Act. These works have been assigned to the field level functionaries like Mamlatdar's for the speedy disposal of matters. He advised all the Officers to take hearings with the objective of reaching decision.
At the end Hon'ble CM Dr. Sawant advised all the field functionaries to attend their courts and office works to generate outcomes in terms of decision under various Acts in a time bound manner.