Margao: With the lockdown bringing in unprecedented challenges, BJP State General Secretary Damu Naik has supplied essentials to around 3,000 people including rickshaw, pick up operators, pilots and others in and around Fatorda constituency.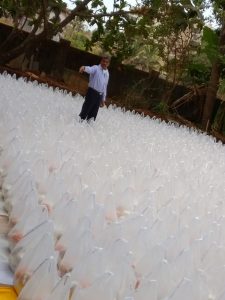 Team of BJP leaders has been on the forefront since the lockdown time in this constituency. Naik said that the major focus was needy people and those who are left jobless due to the lockdown.
"We managed to reach up to 3,000 people in Fatorda and surrounding constituencies. We ensured that only those who are in dire need are provided the support," he said.
Targetting the motorcycle pilots, Naik said that those in Margao town, operating near Kadamba Transport Corporation Limited and also Konkan Railway Corporation Limited were handed over the essentials.
The supplies were also provided to Kranti Rickshaw Association and Pick Up Drivers' Association operating in Margao were also provided with the essentials by team of BJP.
Naik said that all the booth level workers were also activated reaching out to several people.