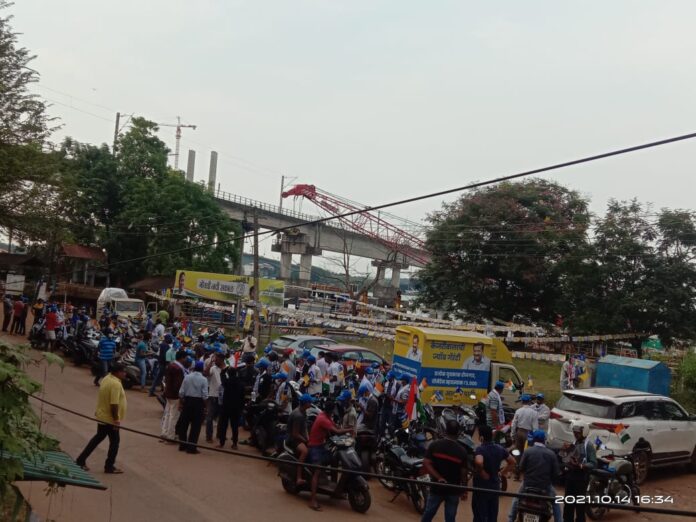 The Aam Aadmi Party's Rozgar Yatra in Cortalim took the constituency by storm. 100s of AAP volunteers took out a bike rally that was followed by booth level meetings in which a large number of residents joined and registered for Kejriwal's JobGuarantee.
In Cortalim, even though the present MLA is in the ruling party, she has been unable to provide jobs to resident youth. The Government has failed to generate jobs. There are a lot of Private Companies but the unfortunate scenario is that Goenkars are not easily employed there. Arvind Kejriwal's promise of reservation of 80 percent of jobs is welcomed and looked forward to.
Arvind Kejriwal in his visit last month to Goa had announced his guarantee of providing employment to every youth if the Aam Aadmi Party government is formed in the state. He said that every youth will be given employment after the formation of the AAP government and till the employment is not provided, one youth of every family will be given Rs 3,000 per month. He announced that 80 percent of jobs in the private sector will be reserved for the youth of Goa. Rs 5,000 would be provided monthly to families who lost employment due to shutdown of tourism and mining. AAP Government will further establish a Skill University in Goa on the lines of Delhi's DSEU. He further said that AAP will bring an end to nepotism in government jobs in Goa and the jobs will be made available to the common man
Joel Fernandes, AAP Cortalim Assembly Incharge flagged the Rozgar Yatra at Cortalim. "The Cortalim Youth are angry because in spite of having the ruling party MLA from their constituency, has not improved the unemployment situation. There are Lots of private companies but Goenkars not getting jobs. The Youth are looking forward to Arvind Kejriwal's Guarantee that 80% jobs in private sector will go to locals. Arvind Kejriwal does what he says. When AAP is voted to power, transparency and equal job opportunities will arise".