Panaji: Continuing it's campaign on Kejriwal's Job Guarantee the Aam Aadmi Party today took out a Rozgar Yatra in Shiroda and Mandrem. The Shiroda Yatra was led by party Sr Vice President Mahadev Naik. 100s of AAP volunteers in both Mandrem and Shiroda took out a rally to kickstart this leg of the Rozgar Yatra. Naik addressed large number of residents in back to back meetings in Sakwar Borim, Shiroda Bazar and Dattghad bethoda . In Mandrem AAP leaders and Mandrem Assembly incharge Adv Prasad Shahpurkar addressed large meetings in Sawantwada Mandrem, Tuem & Arambol. The meetings were attended by large number of residents who were angry with the present Govt as they felt the BJP had cheated them out of jobs
Speaking to residents, Naik highlighted how the BJP has time and again tricked residents by first promising jobs to youth and then disappearing. Shiroda residents have reacted extremely positively to Arvind Kejriwal's employment guarantee as many youth of Shiroda feel that they have been cheated by their MLAs. They look forward to the transparency that Arvind Kejriwal will bring to job allocation and the 80% reservation of jobs for Goans.
In Mandrem Adv Prasad Shahpurkar addressed residents who have lost jobs due to the lockdown as many parts of the constituency are dependent on tourism. Taxikars have lost their livelihood many families who are dependent on tourism have completely been left without aid. Residents hailed Arvind Kejriwal's support to Taxikars and asked why the BJP could not do the same.
Arvind Kejriwal in his visit to Goa last month had announced his guarantee of providing employment to every youth when the Aam Aadmi Party government is formed in the state. A key promise was that every youth will be given employment and Rs 3,000 per month till the employment is provided. Youth are also excited about when Kejriwal announced 80 percent of jobs in the private sector will be reserved for the youth of Goa. Rs 5,000 would be provided monthly to families who lost employment due to shutdown of tourism and mining. AAP Government will further establish a Skill University in Goa on the lines of Delhi's DSEU. He further said that AAP will bring an end to nepotism in government jobs in Goa and the jobs will be made available to the common man.
"The BJP is assuring only 10,000 jobs of which they won't even fulfil a 1000. All the youth know that this is just a jumla. Only AAP can solve the problems of our youth in Goa!" said Mahadev Naik Sr Vice President of AAP Goa. "BJP has only been trying to mislead and misguide today's youth for vote bank purposes. They don't care if the youth are employed! Now as the elections are coming close they are announcing they fill up 10,000 jobs by December just to fool Goans again" added Naik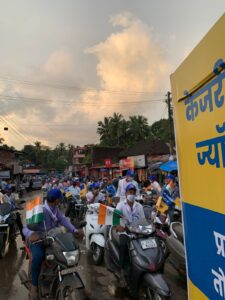 "The residents of Mandrem want to know where the BJP Govt disappeared when they lost their jobs. The residents of Mandrem welcome Arvind Kejriwal's announcement of providing INR 5000 support to families who have lost jobs due to the slowdown in tourism. What they want to know is why has the BJP not done this" said Adv Prasad Shahpurkar AAP Mandrem Assembly incharge
"The residents of Shiroda are tired of being tricked time and again by the BJP. No one seems to care about the youth and those who have lost their jobs" said AAP Goa Vice President Adv Surel Tilve. "AAP volunteers are taking Kejriwal's Job guarantee to the houses of every Goenkar. Goenkars are registering for Kejriwal's job guarantee in large numbers. Over 5000 a day are registering in our booth level meetings" added Tilve