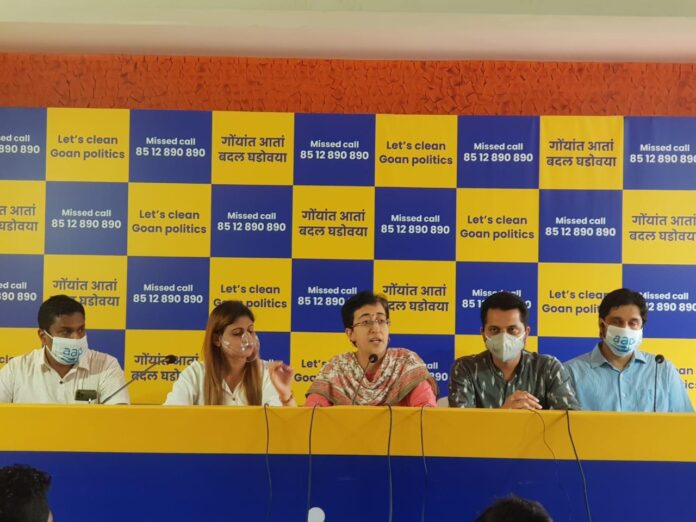 Goans remember 10th July 2019, as the black day of Goan democracy. – Atishi
"Congress sold Goan votes, and BJP stole them." – Atishi
"70,000 people pledged to clean Goan politics with AAP's campaign in the last 10 days. – Atishi"
Atishi, AAP leader & MLA in Delhi launched the second phase of 'Let's Clean Goan Politics' two years from the day 13 Congress MLAs defected to BJP. 70,000 people of Goa pledged to clean Goan politics in the last ten days of AAP Goa's campaign.
The right to vote is the most empowering method of conveying opinion and demanding for change that individual citizens hold in our national democracy. 10th July 2021 marks the second anniversary of the day that tarnished clean Goan politics; 10 Members of the Legislative Assembly (MLAs) from the Congress party joined their previous rival, BJP. It is a black day in the Goan democracy. This act of misbehaviour proved to Goans that a vote for Congress was an indirect vote for BJP.
"The biggest power that the common man has in a democracy is the power of his/her vote. With this power, they can shake up the biggest politicians, and choose the government that they want. The people of Goa voted against BJP, by voting for Congress. But Congress stabbed the democracy in its back by defecting to BJP. The people now know, that voting for Congress is equivalent to voting for BJP."
This similar demonstration of the blatant imbalance of power that BJP attempts to hold over their rival party members has been observed in other states around India, including the national capital, Delhi. On multiple occasions, BJP members have harassed and put pressure on Aam Aadmi Party (AAP) MLAs to BJP, but we have held strong.
The people of Goa demand for change and their efforts have not paid off. At AAP, we started a #LetsCleanGoanPolitics campaign to raise awareness about the betrayal and to work towards ending the legacy of corruption. With over 70,000 pledges made in the past 10 days, we want to end the power play and clean up Goan politics for the citizens of Goa and their future generations.
Congress SOLD and BJP STOLE Goa's votes, but AAP will bring back clean politics to Goa.