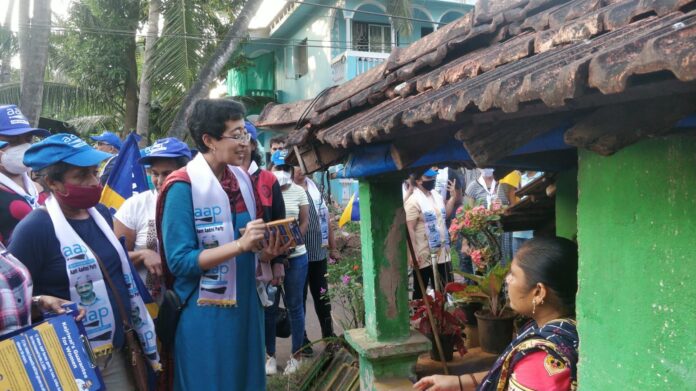 Delhi MLA and Aam Aadmi Party Goa unit in-charge Atishi formally launched the registration drive in Panaji on Friday for Kejriwal's women guarantee and participated in door-to-door campaign in Calangute and Benaulim.
Atishi, who was on a daylong visit in the state, started the registration drive from Calangute and Benaulim along with AAP leader Sudesh Mayekar and vice president Venzy Viegas and AAP ZP member Hanzel Fernandes respectively.
AAP national convenor and Delhi CM Arvind Kejriwal had recently announced that if the AAP is voted to power, payment for beneficiaries under the government's Griha Aadhar scheme will be hiked from the current Rs 1,500/month to Rs 2,500/month. Besides, all women above 18 who can't avail of the scheme owing to one-beneficiary-per-household rule will get Rs 1,000 per month.
Atishi said, "Women make up 50% of the population, in the state. The women run the house and take care of the family, but they are still dependent on the men of the house. No matter how small or big a decision may be, it is usually made by the men of the house. The 'Rs.1000 scheme for women' is meant to make women financially independent".
"AAP's fifth guarantee will be the biggest and most effective women empowerment programme, not only in India but in the world. Women have their own small wishes and aspirations but they are financially dependent on their fathers, husbands and brothers. If AAP comes to power, no woman in Goa will have to be financially dependent on their fathers or husbands for small needs. This scheme will empower women financially", she added.
She further said, "As soon as the AAP government is formed, every woman above 18 years, will get ₹ 1,000 per month in their accounts. If there are women in a family above 18 years of age including daughter, mother, daughter-in-law, sister-in-law, mother-in-law or grandmother; they will all get one thousand rupees each".
"We have started the registration from Calangute and we have received tremendous response from the Calangute women. Calangute women are really looking forward to the scheme and appreciated the Kejriwal government for understanding their pain and introducing such type of scheme", AAP leader Sudesh Mayekar said.
With an aim to help local women become self-reliant and capable of earning a livelihood, Atishi launched a 'Women Skill Development Camp' for the women of Calangute Constituency, on Friday.
While addressing the gathering AAP leader Sudesh Mayekar said, "This will be a week-long women's skill development camp from 10-19 December. During this camp the women will learn how to make cakes, jewellery, bags, soap and candles. Besides these, there will be workshops related to make-up and tailoring".
He further said, "We have taken this initiative to encourage women from different communities, to equip themselves with knowledge and skill through this workshop. Today skill development must go hand in hand with education, adding that it is a guiding force for empowering women and providing them opportunities to become self-dependent".