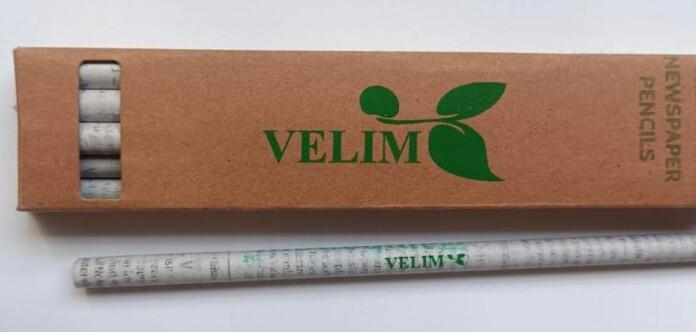 In an effort to reduce the use of plastic pens in India, Goa-based company Syamantaka has launched 'Velim' EcoFriendly pencils made out of recycled newspapers collected from people in villages of Velim, Goa.
Velim eco-friendly pencils is the brainchild of 18-year old Kaydence Rodrigues. She wanted to find a solution to rising wastepaper and plastic menace in Goa and India. Combining the dual purpose of recycling waste newspapers and making them into pencils, Rodrigues decided to manufacture and promote eco-friendly pencils in order to reduce usage of plastic pens.
Speaking on the entrepreneurial idea, Kaydence Rodrigues, Co-Founder, Velim Eco expressed, "Our mission is to reduce the use of plastic pens in India and around the world. Education alone will not work. We decided to give people an eco-friendly option instead of plastic pens. An estimated 2.4 billion plastic pens are brought to the market every year. Reportedly, 91 percent of the plastic pens are not recycled. The fight against single-use plastic must start with plastic pens first. Secondly, if we put pen to a paper that paper cannot be reused unless recycled. However, if we use pencil to paper, we can reuse that paper after rubbing its content thereby not wasting more paper which will lead to less cutting of trees. Therefore, we decided to launch 'Velim' EcoFriendly pencils in India and then take it to the global markets."
Replying on whether her efforts would end the use of plastic pens, Rodrigues asserted, "Our aim is to create awareness about the harmful use of plastic pens and encourage people to use recycled pencils. We have to work collectively to save our planet and adopt good practices."
Savio Rodrigues, Co-Founder & CEO, Syamantaka informed that the 'Velim' EcoFriendly pencils are made out of newspapers that have been collected from the villages in Velim, Goa and then recycled into paper. The recycled newspapers are then repurposed into pencils. "Through the 'Velim' EcoFriendly we aim to create a circular economy for people who collect the newspapers, people who work in the workshop to repurpose it into pencils and people who distribute the pencils in the market."
In the first phase of its launch the Velim' EcoFriendly pencils will be available in retail stores in Goa, following which it will be made available in Mumbai, Delhi, Bengaluru and Chennai. "We have been positive responses from different markets in India. We have also got an order from United Arab Emirates and inquiries from France, Germany and Italy," revealed Rodrigues.