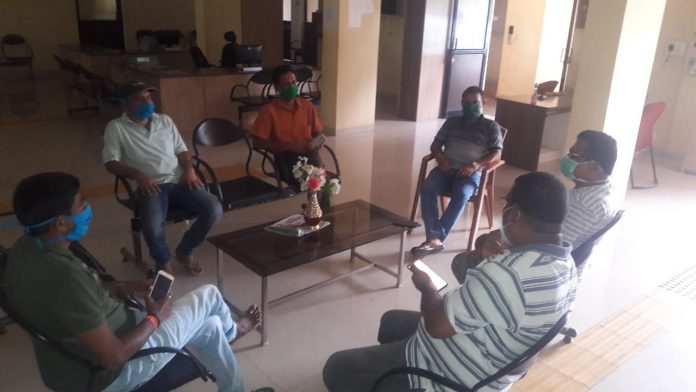 Valpoi: Valpoi Municipal Council will have strict vigil on violation of MHA guidelines to avoid the transmission of Covid 19 disease in Valpoi city, Valpoi Municipal Council had a special meeting with Councillors and other stake holders on Sunday morning which was chaired by VMC Chairperson Akhtar Shah.
As the state of Goa witness drastic spike in cases of COVID-19 and two positive cases detected in Sattari, the council members of Valpoi Municipal Council will submit a memorandum to the deputy collector Sattari on Monday request him to implement SOP's issued under MHA guidelines in Valpoi market area to avoid transmission of virus.
According to VMC, there was a demand from the general public that Valpoi should go for lockdown but it will not be feasible unless the state government decides and asks the authorities to implement total lockdown in the town.
Council also observed that some people are showing a casual attitude towards the SOP's issued by MHA and they hardly follow it and hence there is fear in the mind of citizens that there may be spread of virus which can be avoided only if the enforcement agencies act against the violators.
Civic body will be taking action against violators from Monday but at the same time they also  requested the deputy collector to direct the police to restrict unnecessary movement in Vapoi specially bikers who are entering the town without any purpose.
"We will be issuing an appeal letter to all the market traders/businessmen operating in town to follow the SOP's issued by MHA strictly and if they fail even after repeated request we will penalise them with fines" said VMC Chairperson, Akhtar Shah. He further said that the public should understand the seriousness of the situation and co-operate with the civic body and other enforcement authorities.
Police will be deployed to all the entry points of Valpoi town so that unnecessary movement can be curtailed. "No need to panic as all shops and grocery stores will be open in the town so don't rush. We are just requesting the public to avoid needless travel in the market area for you and your family safety. Public should follow SOP in a responsible manner, wear a mask, keep social distance and use sanitizers. We will make sure that all market traders/businessmen and shopkeepers follow one meter distance while transacting business, keep sanitizers for customers and don't do business with anyone who is not wearing mask" told Shah.
Ramdas Shirodkar told that the municipal van will announce the SOP's and create awareness in all wards and request panchayats to follow the same procedure.
"We will appeal to our people to avoid frequent movement and ask them to stay in and follow the guidelines" said Ramdas. Atul Dantye and Anil Katkar also share their views and stress on following the SOP strictly.
"We have discussed the matter with our MLA and Health Minister, Vishwajit Rane and from Monday enforcement authorities will gear up more seriously to implement the guidelines and take strict measures to keep our town and Sattari from further transmission of virus" informed Shah.