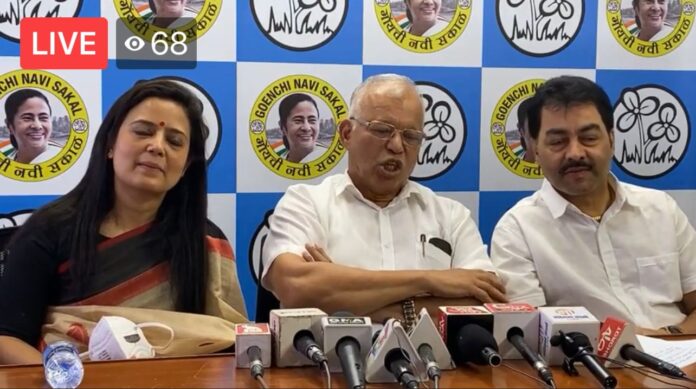 Panaji: Ahead of TMC Supremo Mamata Banerjee's December 13 visit to the coastal state, Maharashtrawadi Gomantak Party on Monday announced their alliance with Trinamool Congress party for upcoming Goa election.
MGP President Deepak Dhavalikar told reporters that the party will be contesting upcoming election in alliance with TMC on seat sharing basis. He said that the details of the alliance would be announced at later stage.
TMC Member of parliament and Goa desk incharge Mahua Moitra said that the details of the alliance would be declared before Mamata Banerjee's scheduled visit on December 13.
Earlier during the day, Dhavalikar said that the central committee of MGP resolved to have alliance with the TMC.
He said that the details like who would be chief ministerial face would be worked out later.
Dhavalikar said that both the parties have joined hands to give good governance to the people.
"There is a wave against BJP. People want a change and we will be able to form the government in the state," he said.
Dhavalikar said that the impression was being created that MGP do not have any option other than the BJP. "We have been always criticizing BJP. We were in talks with all other parties like AAP, Congress and TMC except BJP," he said.
The MGP chief said that 60 per cent of the people are yet to decide whom to vote, and hence this option has been provided to them.
Dhavalikar said that the MGP can contest the election on its own but considering the current political scenario it was decided to go for pre-poll alliance.
TMC's National Vice President Luizinho Faleiro said that TMC had given a clarion call to all Goans to get united.
"I am happy that the Goans have decided to have a credible change. I am happy and proud that MGP which is one of the oldest party has come together to form an alliance with TMC," he said adding that MGP has also realized that having worked with BJP and all these forces, the best thing for Goa is TMC.