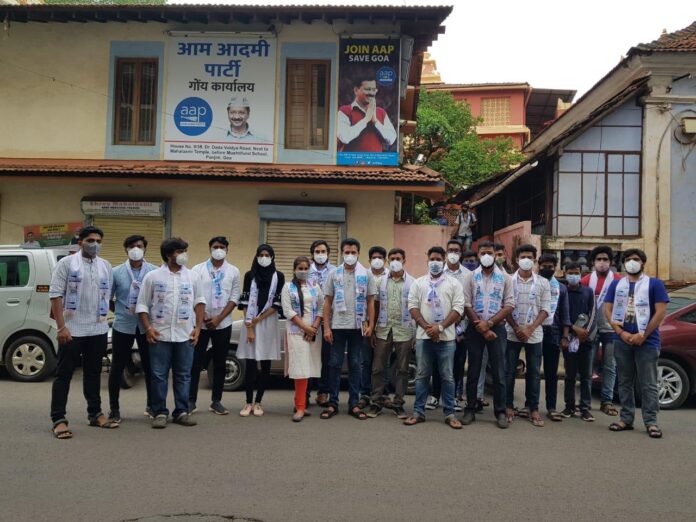 Various youth and student leaders across Goa joined AAP youth wing in the presence of AAP north Goa vice president Adv.Surel Tilve and AAP ZP member Hanzel Fernandes.
Surel who himself a student leader in his earlier days, pointed out how the current legislators celebrate their silver and golden jubilees being in politics while the youth remain neglected and are only used by other political parties to fulfil their selfish agendas.
AAP ZP member Hanzel Fernandes narrated his experience of how himself being a youth without any political family background was given a platform by AAP and now is able to work for the people of his constituency. He urged the youth to join the party
Six past general secretaries from various schools and colleges, past NSUI state general secretary and current NCC cadet captain were amongs the many who were formally inducted by Adv. Surel Tilve.
Among the youth who joined included Ms.Durva Pednekar(Ex.GS of Vidhya Prabhodini HSS), Sandeep Navik(Ex-GS DMC), Manthan Parab(Ex-GS), Shubham Gaonkar(Es-GS, UR of Ponda Education Society), Johan Vernekar(Ex-NSUI State general secretary, Mr.Sumeet Sutar(Ex.GS of Vidhya Prabhodini HSS), Anwar Shaikh(Ex.GS of Vidhya Prabhodini HSS), Altaf Atni (Current NCC Cadet captain), etc.
"Currently youth of Goa have only used by the BJP, congress and other parties for election purpose but were never allowed to nurture themselves as leaders. It is my appeal to youth of Goa to Join the AAP youth wing to work for the people of Goa." Said Hamid Shaikh (Ex-GS Vidhya Prabhodini HSS)
Durva Pednekar from Saligao pointed out to the emphasis on education by the AAP and how the education system was revolutionized in Delhi and that Goa too needs a same kind of education revolution which will eventually empower the youth.
"During COVID times, AAP was the only party which has worked for the people of Goa in spite not being in power. I was impressed by the oximeter campaign, food packet distribution, oxygen concentrator bank and now the ration distribution, hence I chose to join AAP as it is the only party which works for the common people." Said Johan Vernekar, Ex-NSUI General Secretary.