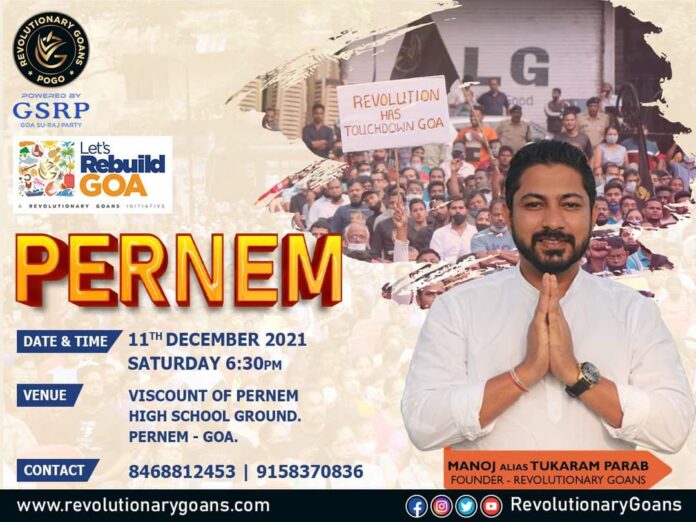 Panaji: Revolutionary Goans under the banner of Goa Su -Raj Party to hold a mega taluka meeting at Viscount of Pernem High School ground, Pernem on Saturday at 6.30 pm. RG Supremo Manoj Parab along with Mandrem candidate, Sunayana Gawde and Pernem candidate, Sujay Mhapsekar will address the gathering.
RG Supremo, Manoj Parab highlighted that this event would witness a massive turnout like the recently conducted meetings at Panaji and Ponda.
"Our meeting at Pernem will see a huge audience similar to our recent meeting held at Ponda. We will be contesting in both the constituencies. The issues the people of Pernem and Mandrem are facing will be strategically rectified through our vision plan. We only need the people to stand by us and vote wisely in the upcoming assembly elections," said Manoj.
He also pointed out that people across Goa are angry with the BJP-led government due to the rise in inflation, skyrocketing prices of petro-products and growing unemployment.
"This election it is time to vote for a change and give Revolutionary Goan a chance. If politicians can switch parties, voters can jolly well switch their votes," signed off Manoj.