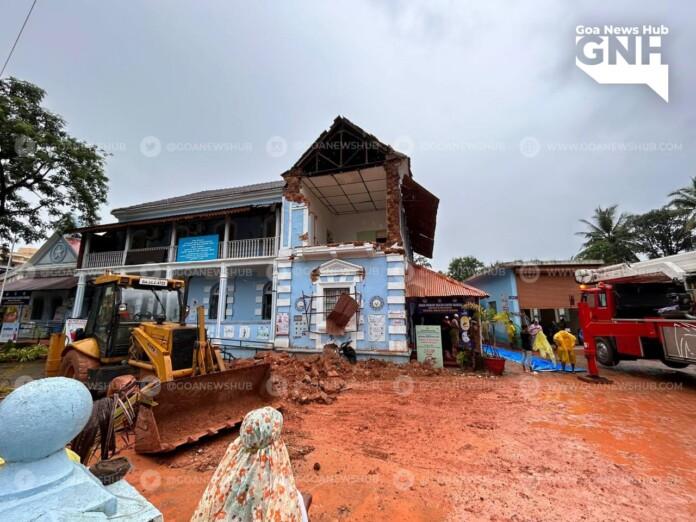 Panaji: A portion of a Portuguese-era building in Margao town, which housed a state-run Health Centre, collapsed on Friday night due to heavy rains.
The authorities stated that there was no casualties as the building collapsed during the intervening night of Friday and Saturday. The state is currently witnessing incessant rains.
The building was currently housing Urban Health Centre catering to the people of Margao and surrounding areas. The structure was built during Portuguese rule in the state.
The fire and emergency services was rushed to the spot on Friday night. A senior official from Fire and Emergency Services stated that the extensive damage has been caused to the building.
"We need to save the building from further damage," he said.
State Health Minister Vishwajit Rane said that Directorate of Health Services has been asked to inspect the building immediately and bring up the issue with the authorities to repair it.
In a media statement released here, Rane said "a portion of the wall of the UHC Margao collapsed last night as a result of heavy rains. The Director has been given instructions to inspect it and bring the issue up with GSIDC immediately."
Goa State Infrastructure Development Corporation (GSIDC) is a state run body which looks after the maintenance and repairs of government run buildings.
"The Director has also been directed to move the file to the Secretary of Health, the government, and the cabinet immediately in light of the current circumstances so that a location can be determined for the UHC," he said.
Rane said that the building needs to be protected because it is a historical structure and it is very old.
"The GSIDC will take up the upgrade of this structure. We will also take up the repairs of the old Hospicio building (another building lying next to it). The matter will be examined by the honourable chief minister, @DrPramodPSawant and myself. We will approach this issue aggressively," he added.