Panaji: The Photographers and Videographers spread across the state are facing impact of the current lockdown. The association representing these professionals on Thursday met Chief Minister Pramod Sawant presenting their difficulties.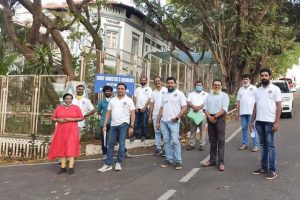 The Managing Committee of All Goa Photographers and Videographers Association met Sawant and presented a letter mentioning the difficulties and problems faced by the members and all Photographers and Videographers of Goa as a whole.
A special graphical presentation with statistical  data was shown to the CM to highlight the overall situation and condition of effects of lockdown on our members in this critical times of crisis.
Other business will start after the lockdown. But, the team expressed concern that unless and until permission for social gatherings and events is given the photography and videography business will continue to bear huge amount of losses.
As it is usually the photography business is seasonal and starts after Diwali till end of May.
It will be very difficult for the photographers and Videographers to meet their daily needs who are already burdened with loans for purchase of high end Quality Equipments, Housing, Business loans etc.
The association looks forward to the government for help and support in this difficult times. The folllowing committee members were present Dildar Madgaonkar (President), Janhavi Shet (Vice President), Sachindra Naik (Secretary), Sanjay Nagde (Treasurer), Rohan Divkar (Joint Secretary), Narayan Divkar (Joint Treasurer), and Executive members Geovanni Fernandes, Raju Sawant, Sadanand Sawant,  Deepak Basutkar and  Vivek Gad.