Navelim: Navelim MLA Luizinho Faleiro resigned recently to join TMC and defeat BJP in the country and the state under leadership of West Bengal Chief Minister Mamata Banerjee.
This has left the void which is now being filled by leaders from other parties.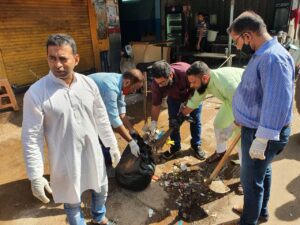 BJP Goa spokesman Urfan Mulla was seen cleaning up the garbage on the streets of the constituency on Friday. "There was water saturated on the road which was also fixed during our drive in the constituency," he said.
Mulla said that Navelim has no MLA now and it is the responsibility of each of the voters to ensure that the constituency is looked after. "MLA may have resigned form his selfish gain but we will ensure that people don't face hardship," he said.