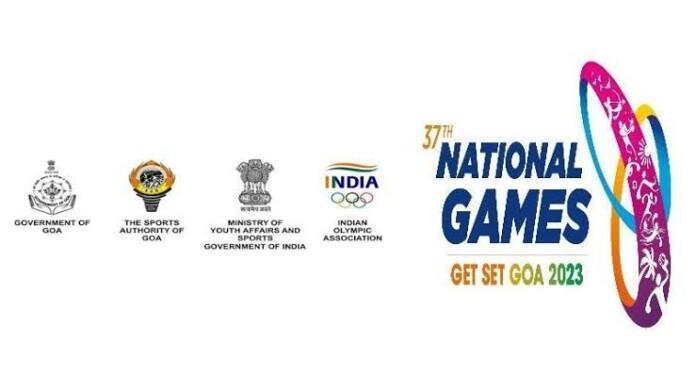 Panaji, October 26: Olympian C.A Bhavani Devi, representing Tamil Nadu, continued her domination in the national circuit winning gold in the Women's Sabre Individual Fencing competition in the 37th National Games being held here at the Dr. Shyama Prasad Mukherjee Indoor Stadium. Bhavani beat S. Sowmiya of Kerala 15-5 in the final to win back to back gold medals. Shiksha Ballouria of Himachal Pradesh and Jagmeet Kaur of Punjab won the bronze medals.
Babu Gaonkar gave the host their first gold medal of the games after winning the Men's Laser Run event in Modern Pentathlon at Ponda. Ajay and Ravi of Haryana finished with silver and bronze. Later in the day, Babu teamed up with Seeta Gosavi to win the silver in the Laser Run mixed relay where Anju and Ravi of Haryana won the gold and Yoginee Salunke and Shahaji Sargar of Maharashtra won the bronze.
In the Women's Laser Run, Ujjala of Haryana clinched the gold ahead of Yoginee Umakant Salunke of Maharashtra who won the silver and Neha Yadav of Madhya Pradesh who won the bronze. In the Men's Laser Run Team Haryana won gold followed by Madhya Pradesh with the silver and Maharashtra with the bronze. In the Women's Team event, Madhya Pradesh won gold while Maharashtra returned with silver followed by Goa who won bronze.
At the Campal Sports Village, Popy Hazarika of Assam clinched the gold in the Women's 59 Kg weightlifting category with a total lift of 191 Kg (Snatch – 86 Kg, C&J-105 Kg). Davinder Kaur of Punjab won the silver with a total lift of 182 Kg and M. Deepanayomi of Andhra Pradesh lifted 180 Kg to win the bronze.
In the Men's 67 Kg category, Mizoram's Lalhunthara lifted a total of 281 Kg to clinch the gold, edging out Subhash Lahre of SSCB by just a kilogram who won the silver with a total lift of 280 Kg and Arunachal Pradesh's Bengia Tani won bronze with a lift of 277 Kg.
In Gymnastics at the Peddem Multipurpose Indoor Stadium, Yogeshwar Singh of Haryana clinched gold followed by Sidharth Verma of Uttar Pradesh and Gaurav Kumar of SSCB who won silver and bronze in All Round Individual Men's event in Gymnastics.
Pranati Nayak, who is now representing Odisha, won the gold in the women's All Round Individual which was held late yesterday. Pranati Das of West Bengal won the silver while Shraddha Talekar of Maharashtra won bronze.
Odisha beat Karnataka and Bihar beat Delhi in the quarterfinals of Women's Rugby played at the Athletics Stadium, Bambolim. Odisha beat Karnataka 64-0 in dominating fashion to book their places in the semi-finals while Bihar also reached the semis beating Karnataka 53-0.
Netball Fast 5's at the Campal Sports Village and Basketball 3×3 are also underway with the group stage matches.
Important Results:
Weightlifting
Women's 59 KG
Gold – Popy Hazarika (Assam) – Snatch – 86 Kg, Clean & Jerk – 105 Kg, Total – 191 Kg
Silver – Davinder Kaur (Punjab) – Snatch – 83 Kg, Clean & Jerk – 100 Kg, Total – 183 Kg
Bronze – M. Deepanayomi (Andhra Pradesh) – Snatch – 75 Kg, Clean & Jerk – 105 Kg, Total – 180 Kg
Men's 67 KG
Gold – Lalhunthara (Mizoram) – Snatch-122 Kg, Clean & Jerk-159 Kg, Total-281 Kg
Silver – Subhash Lahre (SSCB) – Snatch-124 Kg, Clean & Jerk-156 Kg, Total – 280 Kg
Bronze – Bengia Tani (Arunachal Pradesh) – Snatch-121 Kg, Clean & Jerk-156 Kg, Total- 278 Kg
Gymnastics
Men's Artistic Gymnastics
Individual All Round Final
Gold – Yogeshwar Singh (Haryana) – 76.75
Silver – Sidharth Verma (Uttar Pradesh) – 74.45
Bronze – Gaurav Kumar (SSCB) – 73.95
Women's Artistic Gymnastics
Individual All Round Final
Gold – Pranati Nayak (Odisha) – 45.60
Silver – Pranati Das (West Bengal) – 43.95
Bronze – Shraddha Talekar (Maharashtra) – 41.45
Modern Pentathlon
Laser Run Men's Individual
Babu Gaonkar (Goa) – 12.26.27
Ajay (Haryana) – 12.30.13
Ravi (Haryana) – 13.02.98
Laser Run Women's Individual
Ujjala (Haryana) – 14.58.89
Yoginee Umakant Salunke (Maharashtra) – 15.12.54
Neha Yadav (Madhya Pradesh) – 15.33.37
Laser Run Men's Team
Gold – Haryana
Silver – Madhya Pradesh
Bronze – Maharashtra
Laser Run Women's Team
Gold – Madhya Pradesh
Silver – Maharashtra
Bronze – Goa
Laser Run Mixed Relay
Gold – Anju and Ravi (Haryana) – 15.23.91
Silver – Seeta Gosavi and Babu Gaonkar (Goa) – 16.01.50
Bronze – Yoginee Salunke and Sahaji Sargar (Maharashtra) – 16.14.43
Fencing
Women's Sabre Individual
Gold – C.A Bhavani Devi (Tamil Nadu)
Silver – S.Sowmiya (Kerala)
Bronze – Jagmeet Kaur (Punjab)
              Shiksha Ballouria (Himachal Pradesh)
Men's Foil Individual
Gold – Arjun (SSCB)
Silver – Bibish Kathiresan (SSCB)
Bronze – Dev (Haryana)
               Konsam Denny Singh (Manipur)
Rugby 7s
Women
Quarterfinals
Odisha bt Karnataka – 64-0, Bihar bt Delhi 53-0
Group Stages
Pool A: Odisha bt Kerala – 25-0, Bihar bt Goa – 30-0
Pool B: Maharashtra bt West Bengal – 15-0, Delhi bt Karnataka – 17-15
Men
Pool A: Haryana bt Odisha – 17-10, Kerala bt Goa – 22-10
Pool B: Maharashtra bt West Bengal – 24-19, Bihar bt Punjab – 26-5
Basketball 3×3
Women
Pool A: Chattisgarh bt Goa – 22-04, Telangana bt Chattisgarh – 22-04, Telangana bt Goa – 21-03, Kerala bt Goa – 21-07, Telangana bt Kerala – 21-15
Pool B: Delhi bt Tamil Nadu– 14-12
Men
Pool A: Rajasthan bt Tamil Nadu – 21-10, Delhi bt Tamil Nadu – 18-11, Delhi bt Goa – 21-13, Rajasthan bt Goa – 21-18
Pool B: Punjab bt Kerala – 18-12, Madhya Pradesh bt Telangana – 21-13
Netball
Men Fast 5
Pool A: Haryana bt Rajasthan -36-28, Goa bt Rajasthan- 40-28, Haryana bt Uttar Pradesh – 32-21
Pool B: Kerala beat Karnataka – 27-26, Pool B- Delhi bt Punjab – 24-23,
Women Fast 5
Pool A: Himachal Pradesh bt Goa – 24-15, Haryana beat Kerala – 26-14, Haryana bt Himachal Pradesh – 29-26, Kerala bt Goa – 26-24
Pool B: -Punjab bt Chandigarh – 20-13, Telangana bt Delhi – 26-16, Telangana bt Punjab by 21-17, Delhi bt Chandigarh – 26-18