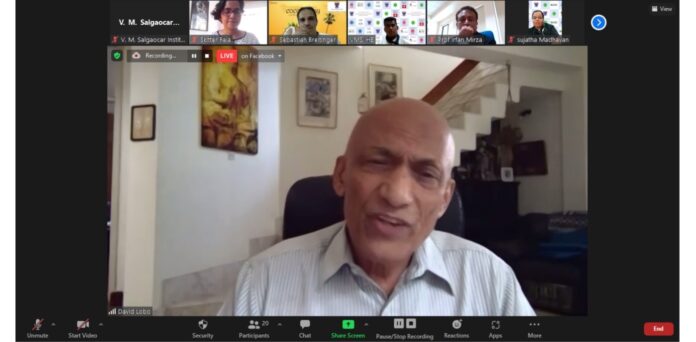 On the occasion of World Coconut Day, V. M. Salgaocar Institute of International Hospitality Education (VMSIIHE) hosted their ongoing series 'Culinary Conversations' with David Lobo, Chairman of Deejay Group as the main speaker. The event was hosted online and gave students of the premier hospitality institute a chance to interact with a man who has been in the industry for nearly four decades.
David started his long-lasting love affair with coconuts after a United Nations expert, Prof. Anthony Davis conducted extensive coconut breeding programs in Asia and eventually convinced David to get into coconut breeding. In 1983, Deejay Coconut Farm Pvt. Ltd. was born in Madurai, Tamil Nadu on a 200-acre plot and the result was the Deejay Sampoorna Hybrid, a high yielding and much sought after breed of coconut tree.
Brimming with passion David enthralled the audience with his vast ocean of knowledge about coconuts. He spoke of the use of coconut in the nutraceutical and cosmetic industry apart from its more known presence in the dairy and edible oil industry. David also highlighted the difference and benefits of virgin coconut oil saying, "As compared to regular coconut oil which is made of the dried out kernels of coconuts, virgin coconut oil is made of the white kernels. This oil is healthier and better as it helps in the healthy functioning of the thyroid and endocrine systems."
After sharing his wisdom and experiences the floor was opened up for a question and answer session where students were free to ask David any queries they had regarding coconut farming, coconuts and its products. He gladly answered all questions put across to him, trying his best to clarify all doubts.
When David's session was over Prof. Irfan Mirza, Director/Principal of VMSIIHE was so impacted that he began recollecting his time as a child, growing up on a coconut farm. He also extended a standing invitation to David saying, "You must join us on campus one day along with your family. Let me make some coconut rice for you and we can discuss more about coconuts over a few carefully crafted drinks made from the fruit."
The session ended with everyone in smiles, having had such an enriching experience. Chef Sebastian Breitinger, Professor Culinary Arts at VMSIIHE proposed the vote of thanks and as parting advice, David told the hospitality management students, "There are 2,226 recipes with coconuts and only 226 have been discovered. It's up to you now to be inspired enough to want to experiment."