Credit: Hershey's & ABC News
Who is Bob Williams?
Bob is 93 years old and he is proving one simple thing – You are never too old to change the world with one Hershey's at a time. For more than 10 years, this World War II veteran from Long Grove, Iowa has been melting hearts by giving out nearly 6,000 chocolate bars to his neighbors, friends and total strangers. Inspired by this example, Hershey's spotlighted him in their new marketing campaign. Apparently, Hersey's decided to pull this ad in a campaign.
Why? Because it showed people shaking hands and hugging Bob Willams. (The commercial is still there on YouTube, but pulled out from all other platforms)
When Hands and Hugs become touchy.
As the Pandemic continues to unfold, how we live has come under a scanner. Hygiene and social distancing have taken priority over everything else in life. Hand-shakes have become a thing of the past. And so has hugging. This is compelling brands to adjust their marketing game plan and realign their communication strategy if it has anything to do with improper use of hands or characters not maintaining social distancing. Meaning no more showing people in a crowded bar, in buses and trains, people hugging and kissing each other.
The American beer brand, Coors, decided to stop its upcoming campaign that positioned Coors Light as the 'Official Beer of Working Remotely.' That's because with some companies asking employees to work from home, the communication would have been rather insensitive or misinterpreted in the current situation.
Soothing the aching hearts.
Consumers are responding to the crisis in different ways. Some are anxious. Some are worried. Some have started hoarding non-perishable food items and hygiene products. And then we have people at the other side of the spectrum, who remain indifferent to the pandemic and are continuing their business as usual, despite recommendations from the government and health professionals. With uncertainty (financial uncertainty more than anything else) looming over their head, your consumer has changed. It is time to observe your consumer once again and re-map his mind. Remember, this is the new age of customized and personalized marketing strategies. Sorry to say, but the pandemic has killed one-size-fits-all marketing.
So what is your customer scanning?
In today's uncertain situation, there is nothing like a normal routine. The Anthropause has compelled consumers to adopt new habits that many experts anticipate are here to stay for long.
Covid 19 has given rise to three long-term buying trends:
Focus on health:
Many brands have taken heed of this trend and have started realigning their product line. For instance, Raymond just launched Virasafe, a USFDA-approved technology that uses a silver-based chemical coating infused into the fabric to destroy bacteria and viruses. It does sound a little gimmicky, but one can see the companies addressing health as a core promise. Brands like Allen Solly launched facemask as apparel and made wearing healthy look trendy. The point here is, companies should support healthy living and need to have a health strategy as a strategic differentiator.
Rising conscious consumption:
Consumers have started keeping a check on what they are buying. Introspection is gaining prominence. Impulse buying is getting curbed. Reducing wastage, and shopping costs consciously. Opting for sustainable and eco-friendly options – brands need to make a note of these consumer preferences.
Love for local
Instead of ordering food from restaurants, consumers are opting for food made by home chefs. Everything, right from homemade masalas to homemade mithai is in high demand. Brands need to explore this angle and must look at ways to connect locally. They need to awaken the philanthropist in them and imbibe 'doing good for the society' in their brand DNA.
The changing psychographic landscape
The first edition of EY Future Consumer Index has defined four distinct consumer behavior segments.
Cut deep – Not so concerned about the pandemic – worried about their families – pessimistic about the long-term effects
Stay calm, carry on – Hit hardest by the pandemic – most pessimistic about the future – spending less across all categories
Save and stockpile – not changing their spending habits – not directly impacted by the pandemic – worried that others are stockpiling
Hibernate and spend – most concerned about the pandemic – best positioned to deal with it – optimistic for the future – spending more across the board
EY's Index further explains that the four segments could morph into five very different ones as the crisis abates. Over a period of time, most consumers in the "Save and stockpile" segment will migrate to two new segments: "Remain frugal" and "Cautiously extravagant." These new consumer segments, detailed in the Index, could emerge post-COVID-19 and be summarized as: "Keep cutting", "Stay frugal", "Get to normal", "Cautiously extravagant" and "Back with a bang".
How to cater to this changing psychography?
COVID-19 is a health and economic crisis. Consumer attitude, behavior and buying habits have changed. Companies need to adopt an R-Cube Strategy to position themselves stronger for the future.
Respond –  Reshape your marketing plan around new demand, brand purpose and be proactive
Reset  – Redefine relationships with consumers, employees, suppliers and redefine relationships with the ecosystem partners
Renew – Reconsider your product and service portfolio and scout the market for opportunities to collaborate
Let us bring back Bob Willams.
Yes, the times are tough. The future looks a little uncertain. But let these mounting pressures not get the best of your brand. Let the warmth with which you created your brand not get destroyed in all the recalculations and realignments.
There is a Bob Willams in each one of us and in every brand DNA. It is time to bring him back.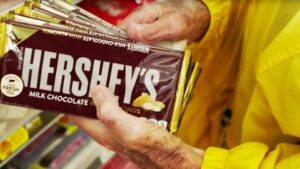 Credit: Hershey's
Author: Prasad Deshpande
Prasad is an advertising professional with 15 years of experience. He is the founder of the Design and Film production house Owlways and co-founder of GoaBylane. With his expertise, he helps brands turn around, stay relevant and grow.
The article was originally published in The Philanthropist, a bi-monthly e-magazine published by the GDP Foundation.
(https://issuu.com/gdpfoundation/docs/the_philanthropist_oct_2020_19th_oct)