Old Goa:  Ports  minister Michael Lobo on Thursday inspected the premises of Basilica of Bom Jesus at Old Goa after the state witnessed sudden rains when roof of the iconic building was opened for repairs.
Lobo along with the officials of Archeological Survey of India (ASI) and the Church management inspected the premises, which has been taken up for repairs.
Basilica of Bom Jesus is a world Heritage site protected by ASI. The building was constructed in the year 1605.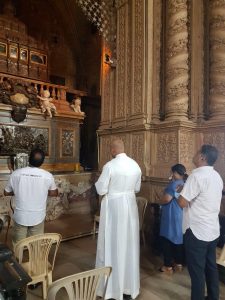 Rector of Basilica Fr Patricio Fernandes was also present during the visit.
"During the inspection it was noticed that for last two days sudden rains had fallen. With the roof of the Holy place open for repairs the water had gushed into the building," Lobo said.
The minister said that while the work for repairs was awarded in the year 2018, the work had recently started due to negligence of the contractor.
Lobo instructed the Archeological Survey Of India Officials that the work of the roof should be made a priority and finished and covered  on urgent basis as there is a possibility of sudden rains in the near future.