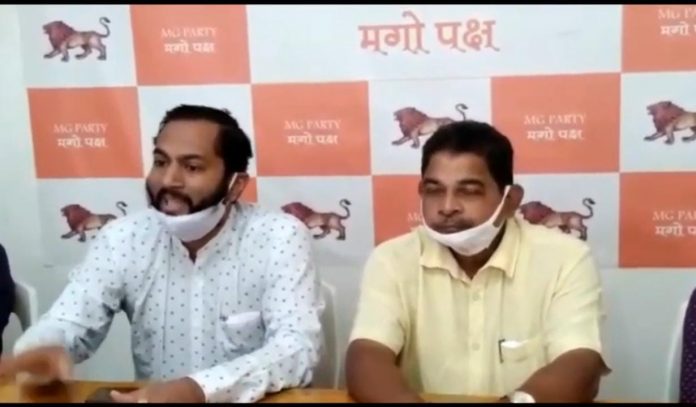 Ponda: Maharashtrawadi Gomantak Party's Ponda leader Ketan Bhatikar has drawn various anecdotes to rubbish claims of Bharatiya Janata Party that his leader Sudin Dhavalikar was against "Bahujan Samaj" and indulging in "Family Raj."
Bhatikar said that MGP has never indulged in caste-based politics, but is working for the people from all strata of the society, while BJP was indulging in its pseudo love for "Bahujan Samaj."
"BJP has Babush and Jeniffer Monserratte in their camp as a part of import-export deal. They should not speak about Family Raj," he said clarifying that he was not against having two persons from the same family in the party.
Bhatikar questioned why few in the BJP were "privileged" to get high posts, while rest were ignored by the saffron party. He said that the developments in the past, including that of insults being hurled at former CM Laxmikant Parsekar, indicates the pseudo-love of the BJP towards Bahujan Samaj leaders.
"We are of the opinion that, the politics should be played over Bahujan Samaj. We believe in politics of development for which Sudin Dhavalikar has been known across the State," he said.
Bhatikar pointed out how BJP has treated Kiran Kandolkar, who is a Bahujan Samaj leader. "Why did they humiliate Venkatesh Naik (ex-PMC Chairman), who is also bahujan samaj leader and supported unanimously for the chair," he questioned.
The Ponda leader said that  MGP will not tolerate any statement against its leaders.
Speaking further, Bhatikar also questioned why government is not doing anything to provide respite from exorbitant Electricity and Water bills to the Bahujan Samaj, who have to pay through their nose.
"Why is that people from Bahujan samaj have to scout for beds in GMC while elite are getting treated for covid in private hospitals," he questioned urging government to bring in experts from AIIMS to treat all the patients in GMCH.
He said that the motorcycle pilots, rickshaw operators, bus conductors, vegetable sellers, fish sellers are suffering due to pandemic situation but government has no heart to provide financial package to them.
During the press conference, he also recalled how BJP had mistreated their Shiroda leader Mahadev Naik, while rolling out red carpet for Subhash Shirodkar.