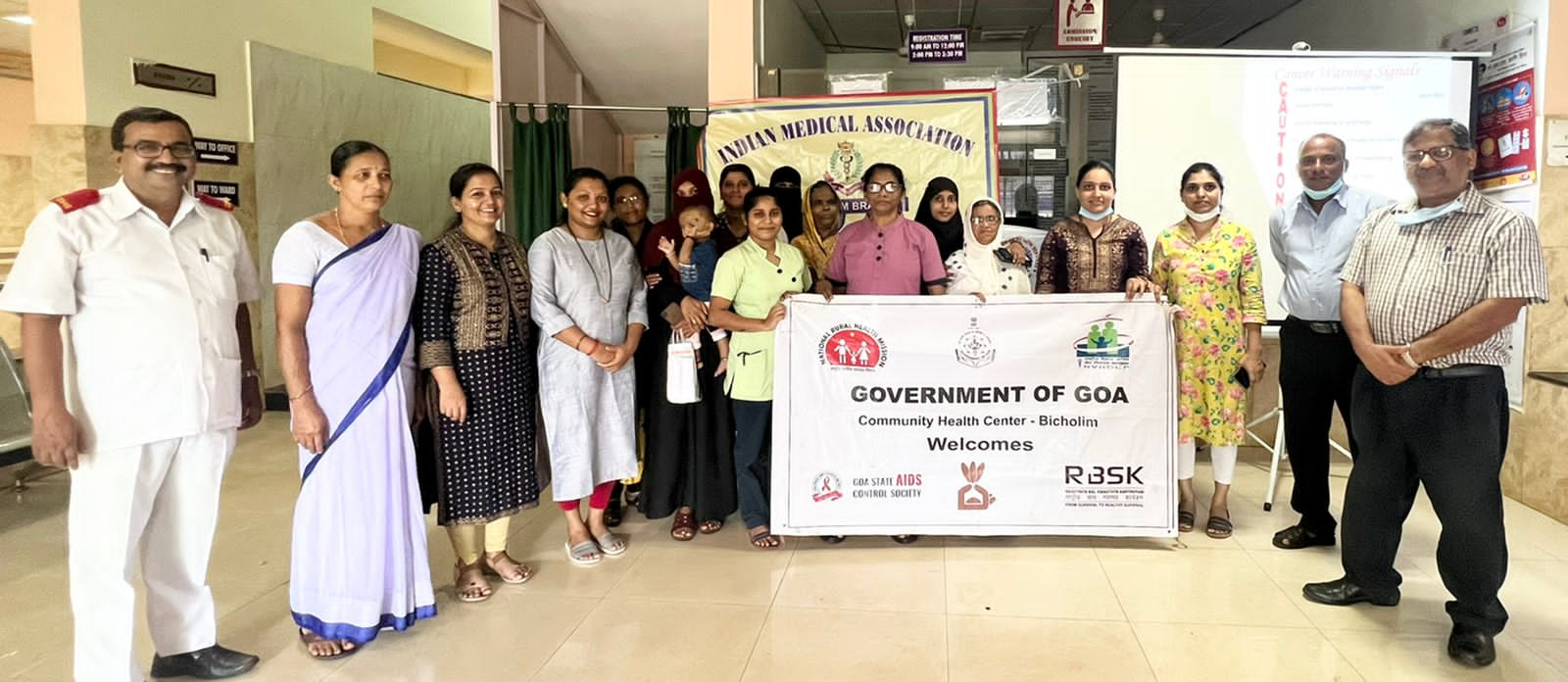 Bicholim: Indian Medical Association Bicholim in association with Community Health Centre, Bicholim, Goa Cancer Society, IMA Goa State and IMA Ponda organised Breast cancer detection camp.
Total 71 ladies attended the camp who were screened with I Breast Special machine which does not give any radiations.
The Blood Pressure, Ramdon Blood Sugar and Haemoglobin Tests were also conducted on the participating women.
Dr Shekhar Salkar, renowned Oncosurgeon and coordinator of IMA Bicholim addressed various questions raised by the participating women.
During the camp, three women were detected with lumps in the breast and after counseling them, they were suggested for further tests.
Three more ladies were detected with duct ectasia, which his a benign condition. They were adviced medicines and follow up.
Dr shekhar salkar was assisted by brother  Mr Suresh Sinari, Mr Shivaji Mhalkar MPHW, Sister Priya Gawas and sister Nikita Parsekar ( handled I breast machine), lab technician Ms Apoorva Parab and Nalini Khalap performed Hb test and Ms Samiksha Gawde and Mrs Lissy Joseph from palliative care Dilasa performed blood sugar and blood pressure recording, MTS Smita Thakur assisted in examination  of the ladies and Dr Vidya Gadd medical officer helped the ladies who had other complaints.
Taking advantage of the camp 15 ladies ABHA ( Ayushman bharat health account)cards of National health authority were digitally uploaded.
Dr Medha Salkar stressed the need for early diagnosis which saves life. She said it's not only detection but also awareness of all types of cancer which happens with such types of camps.
Dr Shekhar Salkar  said early diagnosis has three major benefits one is with proper treatment it gives almost near normal life for the lady, two it saves the breast organ and three cost of treatment is very low as all treatments surgery, chemo and radiotherapy is covered under DDSSY scheme by govt which otherwise would have cost patient 4 to 5 lacs.
In the end he quoted " women can play a major role not only in early diagnosis for themselves but also by modifying lifestyle and diet of  family members she can prevent not only cancer but many other lifestyle deseases".