Porvorim: Vocational Education under the National Skill Qualification Framework (NSQF) has added a new leaf to the learning process in Goa. From the year 2014-15 to the last academic year, the number of students getting trained under this centre's flagship program has tripled. We spoke to Dr. Shambhu S. Ghadi. Asst. Director of Education Nodal officer (NSQF) Goa Samagra Shiksha. We bring to you the unedited interview giving you glimpse into the world of skill training happening across Goa. 
How many students have been trained till now under the program?
Reply: The number of students enrolled is as under:
| | | | | | |
| --- | --- | --- | --- | --- | --- |
| Academic Year | IX | X | XI | XII | TOTAL |
| 2014-15 | 2086 | | | | 2086 |
| 2015-16 | 3139 | 1161 | | | 4300 |
| 2016-17 | 3151 | 1878 | 622 | | 5651 |
| 2017-18 | 2119 | 1960 | 904 | 484 | 5467 |
| 2018-19 | 2839 | 1760 | 829 | 724 | 6152 |
| 2019-20 | 3342 | 1874 | 1195 | 574 | 6985 |
What is the response of the students for the programme?
As is evident from the table above the enrolment of students has been increasing with every passing year. Since most of the sectors are chosen keeping in mind the skill-gap analysis for Goa and as per the requirements of the locality and since all these courses are Skill based and Job oriented with a lot of stress on Practical training the response is positive. It is also observed that many students are taking a keen interest in these courses.
Which skills are you teaching them?
The curriculum for each sector is designed by PSSCIVE on the basis of Job roles. Employability skills is a part of the curriculum for all sectors and in all classes from IX to XII. Under Employability Skills the skills that are imparted are a) Communication Skills b) Self-Management Skills c) ICT Skills d) Entrepreneurial Skills and e) Green Skills. The instructors appointed by Goa Samagra Shiksha for teaching are required to have industry experience and their qualifications are as specified by PSSCIVE/Sector Skills Council. There is a fund allocation made for inviting resource-persons from the industry for imparting Employability Skills and Vocational Skills. 
How many teachers are involved in the Programme?
The number of teachers appointed are as follows:
| | |
| --- | --- |
| Academic Year | Number of teachers appointed |
| 2014-15 | 44 |
| 2015-16 | 114 |
| 2016-17 | 155 |
| 2017-18 | 152 |
| 2018-19 | 167 |
| 2019-20 | 178 |
| 2020-21 | 168 (more instructors to be appointed) |
What is the response from rural students?
These courses were first introduced in Government High Schools, most of these schools are in rural areas. It was the response received from these schools that gave the others the motivation to introduce these courses in their schools. Today NSQF is operational in 79 Government schools and 12 Aided High Schools as well as in 9 Government Higher Secondary Schools and 23 Aided Higher Secondary Schools. Goa is the only state to have introduced NSQF in Government aided High Schools and Higher Secondary Schools. In Goa the programme is implemented through Goa Samagra Shiksha and is not outsourced to any agencies like in some other states. The implementation of NSQF is monitored by Dr. Shambhu Ghadi, the Assistant Director who is the Nodal Officer (NSQF) along with three coordinators who are on working arrangement with Goa Samagra Shiksha. The Coordinators are Vice-Principals (Vocational) having more than 30 years experience of Vocational Education. The coordinators are Mr. Bharat Naik (MES HSS-Zuarinagar), Mr. Nagendra Kore (Purshottam Walawalkar HSS-Mapusa) and Mr. John Silveira (R.M.Salgaocar HSS-Margao) under the able guidance of the State Project Director, Goa Samagra Shiksha. NSQF courses such as Automobile, Healthcare, IT/ITeS, Agriculture, Tourism and Hospitality, Beauty and Wellness, Construction, Logistics, Retail, Electronics & Hardware, Apparel, Media & Entertainment, Telecom and Plumbing are the sectors operational in Goa.
Does it help them in getting employment opportunities in future?
Most of the courses are skill based and Job oriented. The curriculum is designed by PSSCIVE with the participation of Industry experts. The curriculum is updated on a regular basis and is more practical oriented. Two hours per day is the time allotted to practical training. Labs have been set up and the funds for Raw materials are provided to schools. The instructors are well trained and there is a provision to invite resource-persons from the industry to give practical training. Students have to be taken on field visits to give them a feel of the respective industry. Students have to undergo 80 hours On-the-job training (OJT). The practical examination is conducted by the assessors who are deputed by National Skill Development Corporation through the respective Sector skills council. The students are awarded a certification from the Goa Board as well as a skill certificate from NSDC and the Sector Skills Council. All these factors help them in being prepared to face the challenge that the industry has to offer. The objective is to equip them with the necessary Vocational and Employability Skills to enable them to get gainful employment or for self-employment.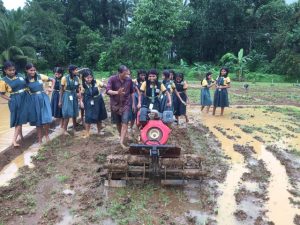 A video to motivate our students to register on the 'Internshala' portal has been prepared by our Media and Entertainment instructors. 'Internshala' is a platform for Internship opportunities, to all the school students, enrolled in the 'Vocationalization of School Education initiative' under 'Samagra Shiksha'. Many of our NSQF students are registering on this portal.
What will be the impact of the programme due to Corona?
Our instructors for the academic year have been appointed and have started online teaching for the students after attending the training. Their progress is being monitored by us through Google meet. They have been instructed to prepare a schedule that will help them in completing the syllabus in the best possible manner. Because of corona having field visits is not possible at the moment. However the instructors have prepared videos of practicals which are forwarded to the students through WhatsApp besides other Learning material. We will be in a position to conduct practicals more effectively after the students start coming to the schools.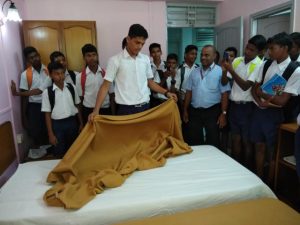 How many students passed during this year?
| | | | |
| --- | --- | --- | --- |
| | APPEARED | PASSED | NSQF BENEFIT |
| 2015-16  – X | 1161 | 1053 | 153 |
| 2016-17 – X | 1782 | 1775 | 202 |
| 2017-18 -X | 1960 | 1749 | 297 |
|                 XII | 484 | 387 | — |
| 2018-19 – X | 1760 | 1720 | 302 |
| | 724 | 723 | — |
| 2019-20 – X | 1964 | 1741 | 271 |
| | 829 | 631 | — |
Which Standard this programme is applicable?
This programme is for the students from IX to XII. In High School the subject is a seventh subject and the students have to pass in any six subjects to clear the class. At the Higher Secondary level it is a compulsory elective and is not be taken as a seventh subject.
Will these subjects be continued till Graduation Level?
B.Voc courses may be started to ensure that these students get an opportunity to learn additional skills during their higher education.