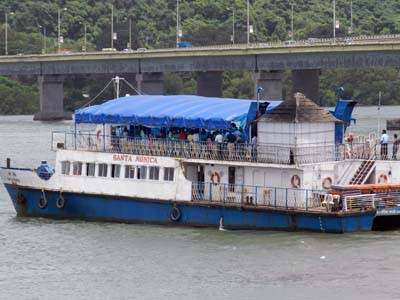 Panaji: Department of Tourism, Govt. of Goa being a nodal agency for framing policies and programs for the development and promotion of Tourism in the State invited suggestions from the general public on the proposed Draft Jetty Policy.
The purpose of this Jetty Policy is to recommend streamlining the theme tours including the evening boat cruises – to ensure good quality at a reasonable price for the purposes of creating good experience to the tourists; ensuring proper jetty facilities for tourism related activities including specifying and ensuring basic and necessary infrastructure at these jetties, garbage management etc; ensuring safety and security of visitors including frisking, CCTV etc. to avoid any accidents at these jetties; ensuring fair competition among tourism activity providers, including transparency in ticket pricing and adherence to taxation by all operators at all of the said Jetties and implementation of single window ticketing system for all said Jetty users, and to avoid any tourism activities from non-jetty areas like Campal etc. to avoid any kind of accidents to the tourists.
It was observed that the said policy is being wrongly interpreted, and several misleading statements have surfaced. In this regard, the following clarifications were provided on scope of Jetty Policy and its salient features which are – Jetty policy is only applicable to vessel operators and jetties being utilized for tourism purposes only. It is not applicable to private jetties, Coal handling, fishing related or Casino activities.  The proposed Jetty Policy is applicable only for passenger cruise vessel operators utilizing the jetty for tourism purposes and not for water sports operators. The licensing authority of the said Jetties in Goa vests with the Captain of Ports and the Jetty Management Committee (JMC) shall not be the owner of any jetty in Goa. Policy is applicable for regulating the tourism activities at only three existing jetties viz., Santa Monica Jetty at Panaji, Captain of Ports Jetty at Panaji, Britona Jetty, Betim Jetty and Jetty at Old Goa and there is no proposal of constructing additional jetties under this policy. This policy is also applicable for any new jetty to be utilized for cruise tourism purposes, as proposed by any Government Department in Goa and upon obtaining all approvals in near future. The Jetty policy is not applicable to any jetties owned by private person(s) / entities, and it excludes casinos, personal boats, barges, ferries and other transport vessels which do not cater to tourism and leisure segments. The Policy excludes fishing or coal handling etc. that do not cater to tourism and leisure segments.  The Policy does not envisage construction of any new Jetties nor does it extend any permission for construction of the same. Captain of Ports will remain the licensing Authority for construction of any new jetties in the state in future too. As the scope of policy covers only tourism activities conducted from existing jetties and doesn't deal approval for construction of jetty or introduction of any tourism activities, this policy, which is for the purposes of regulating the activities only, does not require prior environmental clearance. The Jetty Management Committee (JMC), with COP as one of its members, via Jetty policy does not issue any permission for construction of any jetty on rivers and khazans of Goa. It only acts as an advisory body for evaluating the carrying capacity of a river, either by itself or through competent entities.
The carrying capacity will consider various aspects such as environment, technical, safety and economical aspects of introduction of any new vessel in a river for tourism purposes. COP will still remain as the licensing authority for approving any new vessel on any rivers in Goa. The policy intends to introduce a single window ticketing system for all operators utilizing the jetty for tourism purposes, developed by GEL to ensure transparency, ease of booking and to prevent fleecing of tourists by illegal touts. The practice of unregistered commission agents / touts for sale of tickets for tourism-centric activities by any vessel operator is discouraged. Institutional clients / Intermediaries such as hotels, OTAs / booking portals, travel agencies, etc. are allowed to purchase tickets on a bulk basis, at retail price. COP, being one of the members of Jetty Management Committee, has been a party in all the meetings of the said committee in the past including the discussions related to introduction of this policy. The suggestions made by COP were also duly incorporated in the policy document.
As the last date for receipt of recommendations has been extended till October 15, 2022, Department of Tourism urges all the stakeholders to review and provide their recommendations for the finalization of the aforesaid policy on the basis of merit and relevance.