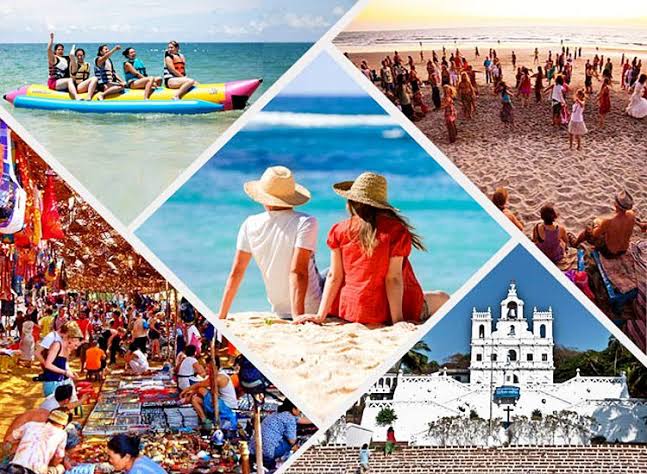 New Year is round the corner. Where are you headed? The answer is Goa – India's unofficial party destination. Come on. Party like crazy and usher in a new year. This seems to be the mantra.
Come new year and all the roads lead to Goa where there are world famous beaches where 'everything' is easily available if you have the right connections and your pockets are full of money. You know what I mean, right?
Remember the often repeated famous adage "What happens in Goa stays in Goa"? Goa is supposed to be a casino capital where people try their luck and become millionaire overnight. Goa is a land of dreams where all wishes miraculously come true. Goa is different things to different people depending upon which side of the fence you belong to.
For a Niz Goenkar Goa is an original paradise on earth whose laidback "susegad" culture is the envy of the rest of India. Hordes of poor tourists arrive in Goa to spend weekend in the hope of consuming liquor available at cheap rates. They want to create nuisance and leave beautiful Goa littered much to the shock and awe of native Goans who turn up their nose at the sight of desi tourists treating the original paradise on earth with disdain.
Having said this, nobody can dispute the fact that Goa is heavily dependent on tourists. The wheels of Goa's economy remain well-oiled thanks to the influx of tourists that spend monies on various things including liquor.
The glossy brochure released by the marketing department of various behemoths based in Goa highlight the sunny beaches on whose feather like sand holiday makers can leave their permanent imprints of the good times that they enjoy in Goa. Now the time has perhaps come to add a new attraction to lure more tourists with deep pockets to Goa.
Goa is honeymooners' gateway. Goa is partygoers' haven. Goa is a perfect destination for those wanting to forget their worries and anxieties and drown all their sorrows into that 'forbidden bottle' whose addiction can cost fortunes.
Now there is a twist in the tail. If you read Goa's dailies regularly, this morning you must have woken up to the news of fighting having broken out at Calangute's famous restaurant. We are not talking about drunken brawls here involving bartenders and thirsty customers. No, punches were not thrown. Scuffles did not take place. Nobody was roughed up. You know what. Guns came out blazing. Yes, gunfight broke out. That too right on Calangute – the iconic beach of Goa – bringing too much of international publicity on the eve of New Year.
But hey come on! No publicity is bad publicity. We want to welcome tourists with open arms, don't we? We do not want to spread panic. Coronavirus and Omicron are already doing that. Let us accept the new normal with a smile.
The spin doctors can put up a brave face and say. Look, we have listened to one of the  popular demands from our tourists across the globe. Along with various water sports, to make Goa more attractive to the tourists in search of excitement and thrill, we are proudly introducing adrenaline pumping adventures like live gunfights across the beaches of Goa.
These gunfights are designed to rouse passions and give unlimited excitement to both the participants and onlookers. These gunfights do not follow any pre-determined schedules. They may break out randomly depending upon the footfalls of tourists. Imagine a newly wed couple exchanging roses on the overcrowded beach while a bullet comes piercing through that rose. Voila.
What kind of a picture perfect honeymoon moment frozen in eternity in the smartphone cameras! Listen, in the long run we are all dead. If coronavirus doesn't get us, one of the stray bullets fired from the guns of blood thirsty lunatics will surely get us. Either way, our end is nigh. Why not enjoy as long as we are alive? Viva Goa!