Arambol: While Goa along with the nation observed lockdown to fight back COVID-19, the parts of Arambol still continued to be a party place for the foreigners, completely exposing the failure of State machinery.
Travelling to this area to know the impact of lockdown, our reporters came across stunning incidents of foreign nationals having blast while locals remained indoors.
The less populated forested areas, which are known for their rave parties, came to life against during the lockdown time.
The parties never stopped even as police were busy manning the highways and internal roads stopping the lockdown violators.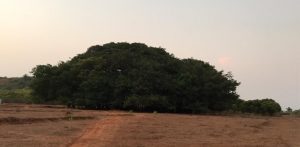 A banyan tree at Arambol which has been known for spotting foreigners have become a permanent home for 30 of them, who have been partying hard here.
We came across the foreigners who were travelling freely on their two-wheelers disrespecting the lockdown rules.
The question remains as to who supplies them the booze and other necessities required to party during the lockdown.
Does this smack of a nexus between some elements whose business has come to a standstill during lockdown and the foreigners.
This also raises questionmark on the administration led by chief minister Dr Pramod Sawant who has made claims that the state has been under control.
Few parts of the state including Arambol and Morjim has already remained out of bound for the state police, for the reasons best known for them.
Chief minister during his press conferences has conceded that there are few foreigners who continue to remain in Goa.
When these foreigners are on tourist visas and there is no tourism happening, what are these foreigners doing here.
As per state government data, 5933 foreigners have left the state during lockdown time in 30 special flights. So, what are these remaining doing in Goa.
While possibilities of cleansing the tourism sector post-lockdown has been one of the possibility but considering the situation, it looks like the state will head for the situation similar to that in the past even in the future.