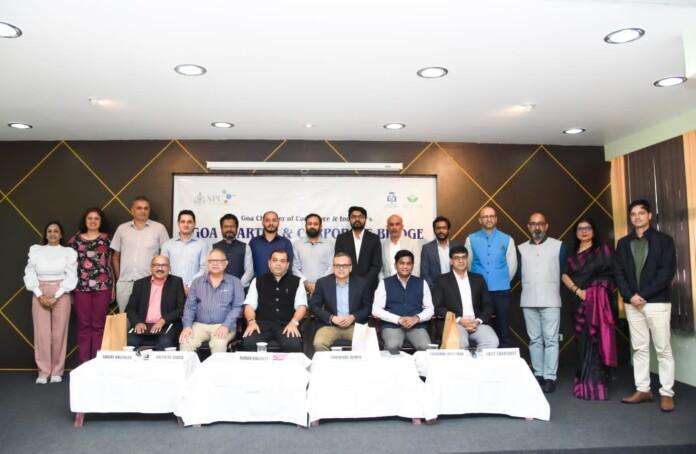 Panjim: In a bid to provide a space for meaningful interactions, knowledge sharing, mentorship, and collaboration, the Goa Chambers of Commerce & Industry and the Startup & IT Promotion Cell, Department of Information Technology, Electronics and Communications, inked a Memorandum of Understanding on 23 October 2023 at the Surendrababu Timblo Hall, GCCI.
During his address, Mr. Shrinivas Dempo, President of Goa Chambers of Commerce and Industry appreciated the steps taken by the Government to foster the growth of startups and IT companies in the State and reminisced his involvement in the policy formulation in 2017-18.
Beginning with the Hospitality sector, through the programme, sector-wise month-on-month sessions would be held.
*Speaking on the occasion, the Chief Guest, Hon'ble Minister, IT, E&C, Shri. Rohan Khaunte said that the vision of the Government is to make Goa the Creative Capital of India and was appreciative of the initiation of the programme for startups who could find value. He said "I believe that the fusion of innovation and established industries is the key to unlocking new frontiers of progress in Goa. I look forward to witnessing the transformative power of this forum, as it ushers in a new era of collaboration, innovation, and prosperity for our state."*
Following the formal function, the event then began with a panel discussion where industry stalwarts and investors such as Mr. Ashok Tanna, General Manager, Kenilworth, Mr. Carlos de Sousa of the De Sousa Group of Hotels, Ms. Sadhana Mukundan, Director and General Manager, Bogmalo Beach Resort, Mr. Saurabh Khanna, General Manager, The Park Hotel and Mr. Jack Sukhija, Director, Panjim Inn, were present. The panelists highlighted various ways in which they could collaborate with startups and as a takeaway, it was agreed that a list of problems facing the industry could be documented for startups to find opportunities. The discussion was moderated by Mr. D. S. Prashant, CEO, of Startup & IT Promotion Cell – Goa.
Post the panel discussion, 7 startups pitched their products to the panelists, this was followed by a speed dating session, where startups were given an opportunity to interact with each of the industry stalwarts.
The Goa Startup & Corporate Bridge aims to be a platform that bridges the gap between startups and established industries, provides mentorship by experienced professionals and stalwarts of the industry, and brings together industry experts, seasoned industrialists, and startups working within the designated sector to foster innovation, share knowledge, and collaborate for mutual growth.