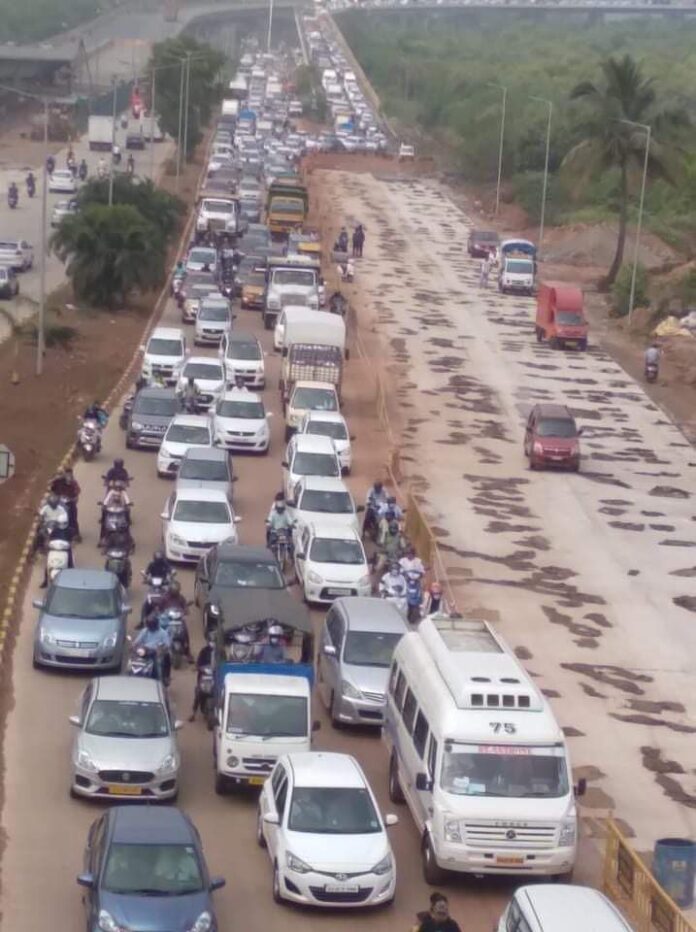 Panaji: Claiming that the state authorities were reluctant to clear the traffic mess near Zuari Bridge to please the contractor, Congress Party has decided to hold protest on the bridge without disturbing the traffic.
Goa Pradesh Congress Committee President Girish Chodankar said that he along with fellow party leaders and workers would hold protest at Zuari bridge on Wednesday at 3.30 pm.
"The deadline given to the state authorities to sort out the traffic mess at Zuari Bridge has ended. It is obvious that state government is trying to please the contractor," Chodankar said adding that such an act has led to traffic mismanagement in the area. It looks like Government does not exist in Goa.
"People are burning costly fuel in the traffic jams. The travel time between Margao and Vasco to Panaji and vice versa has increased by another one or two hours," he said.
Chodankar said that the Congress Party will protest on the bridge on Wednesday at 3.30 pm but will make sure that the flow of traffic is not obstructed. "We are representing the sentiments of the people, so naturally, we would not like the vehicular movement to be obstructed because of us," he said.
We have given sufficient time to the Government & police machinery but they did not respond, we can't see sufferings of patients & their family members as Ambulances gets stuck in the jams. Many passengers are missing flights, staff reach late in their offices and many are missing scheduled appointments. People's patience is running out and we have no option other than coming on streets said agitated Chodankar.