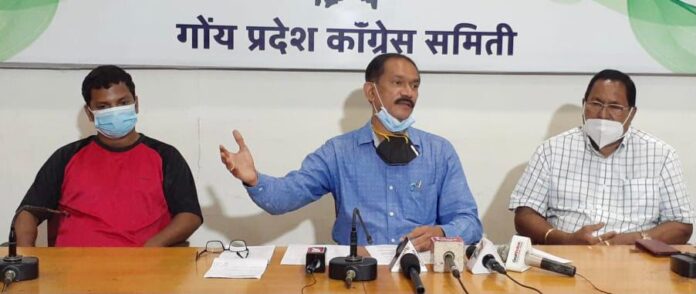 Panaji – Congress Party is all set for elections anytime and win the elections with 23 to 26 seats. We will form the people friendly & stable government in Goa stated Congress President Girish Chodankar.
After the visit of our AICC Incharge few days back, We have visited many constituencies and also conducted Block Committee meetings. Our Districts and frontals also started moving in assembly constituencies. We are ready in almost all constituencies informed Girish Chodankar.
We have fought on every issue by becoming voice of the Common-men. Right now we are protesting on one side on Fuel, LPG price hike and also focusing for preparing for elections.
The recent surveys done by some media agencies and BJP themselves have clearly stated about the imminent defeat of the BJP in the forthcoming assembly elections. The failed BJP has now activated its "Dramebaaz" who have launched theatrics and dramabazi to divert the attention of the people from the core issues of health, economy and unemployment charged Congress President Girish Chodankar.
The survey has given 23-25 seats for the Congress Party in Goa and have also predicted debacle of the BJP in Uttar Pradesh, Uttarakhand. The said survey report is a clear indication that Congress is coming back to power in Goa stated Girish Chodankar.
The bankrupt BJP Government has now started making fake annoucements on giving jobs to the Goan youths. This is nothing but a money making mission of BJP. BJP Agents are already on the move approaching youths asking for huge amounts in lieu of government jobs. This is done to make fast money, as BJp is sure of not coming back to power. This government will not be able to complete even the basic procedure before the Election Cose comes into force. We want to caution the Goans not to fall prey to the money making racket of BJP.
BJP Government headed by Dr. Pramod Sawant has failed on all fronts. This government killed innocent Covid patients by not giving them Oxygen. They have no money to pay to the deserving beneficiaries like widows, senior citizens, persons with disabilities etc of Social Welfare schemes.
Chodankar also attacked Chief Minister for harassing Sakhalim Municipal Council by blocking its development. He also criticised CM for misusing CM chair to target Government servants from his constituency by transferring relatives of his political opponents. Chodankar named few examples saying Suraj Khandekar, Gopal Desai, Sarvesh Mandrekar, Dr. Rupachand Gaude, Videsh Kerkar & his wife were transferred to Canacona, Quepem, Pernem etc to pressurise their families to support him. He warned Government officials not to surrender before CM. Chodankar said defeat of Dr. sawant is certain but his revengeful attitude will further reduce his votes.
Replying to a question posted by the media on Cake Distribution by a political party, Girish Chodankar shot back by saying that the cake distribution scheme was conceptualised by the BJP's super CM and executed by one of its outfits. He termed the said activity as political gimmick to create confusions in the minds of the people with a sole aim to split Congress Votes. He also pointed that Cakes were not given to defectors from other political parties like MGP whose two MLAs merged into BJP on 27th March 2019. BJP & it's outfit conveniently forgot that day. They have also forgotten conveniently to visit Babu Kavlekar & other defectors. We are fighting legal & political battle against all defectors.