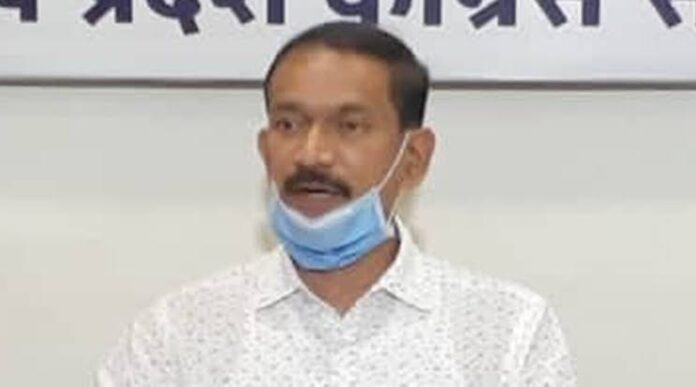 Margao: The Vice President of Goa Pradesh Congress Committee Sankalp Amonkar on Friday said that NCP MLA Churchill Alemao is trying to divide the secular votes in Navelim Zilla Panchayat election, so his pal party BJP is benefitted.
Sankalp Amonkar on Saturday addressed a Press Conference in the South Goa District Congress Committee Office in Margao along with Youth Congress leaders Archit Shantaram Naik and Umed Khan, said that the appeal made by Churchill Alemao to support independent candidate Edwin alias Cipru Cardozo is itself a proof to prove that he is an agent of BJP.
"The Independent candidate is not claiming that he is supported by Churchill Alemao, then what is the motive of NCP MLA to extend support to him." Amonkar questioned and said that Churchill Alemao is eying the Navelim assembly seat for his daughter Valanka and hence afraid of Pratima Coutinho's leadership.
Referring to the statements of Churchill Alemao, who also addressed a press conference in Margao extending his support to independent candidate, Amonkar said that Churchill Alemao is upset to see growing support for Congress candidate Pratima Coutinho. "Churchill is totally gone in frustration mode. He wanted to make BJP happy by dividing secular votes of Navelim, but people of Navelim know that Churchill is doing this all to secure his family's future in politics. Hence people will shoo away his appeal." Amonkar said.
Terming Churchill Alemao as 'reserve' MLA of BJP team, Amonkar said that former is used by BJP whenever they want. "Since he became NCP MLA, he is with BJP, supporting them in their every deed. He is an agent of BJP." He reiterated.
He said that Churchill Alemao has no right to speak against Congress leaders Girish Chodankar and Pratima Coutiho and about internal matters of Congress. "Churchill should not come to the lowest level of politics, which will ruin his political career." He said.
Sankalp Amonkar appealed to people not to fall prey to the tactics of Alemao to divide secular votes. "Churchill Alemao should have shown some daring by fielding NCP candidates in Navelim Zilla Panchayat election, he has not done it only to support BJP., internally." He said.