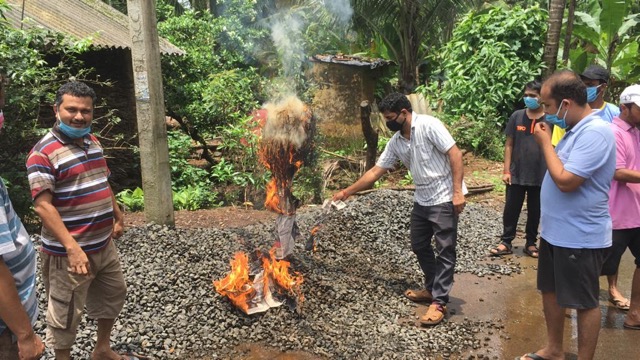 Valpoi: Villagers from Brahma Karmali village from Sattari Taluka burnt an effigy of the China country's president Xi Jinping as a protest on Sunday morning.
The protest was held to raise a call for boycotting Chinese products due to the Sino-India Face-Off in Galwan Valley in Ladakh earlier this week in which at least 20 Indian soldiers lost their lives, the protesters said.
Prominent citizen and one of director of GIDC Mr. Milind Gadgil said, It was an act of cowardice by China against our soldiers. 20 of our soldiers got martyred and others were injured. Hence, to oppose Chinese products, we have burnt effigies of China's President Xi Jinping. We also request our citizens to give priority to Indian products to boost our economy.
Panch Member Parag Khadilkar, RFO Vishwanath Pingulkar, Advocate Shivaji Dessai and other Villagers were present.