Panaji: BJP's National General Secretary Daggubati Purandeshwari today addressed party's Medical Cell and National Health Volunteers at BJP HQ in Panaji. She is on her visit to Goa.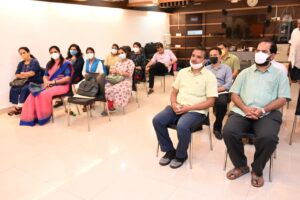 The occasion saw the presence of President of state BJP Shri sadanand Tanawde, General Secretary Shri Damu Naik, Dr Shekhar Salkar, Incharge Goa state, Dr Sneha Bhagwat, co incharge Goa state, Siddharth Kunkoleicar, state coordinator, Sharmad Raiturkar, Guruprasad Pavaskar, Dr Vinod Verekar, Dr Dharmendra Prabhudesai, Dr Sonia Kanekar, Dr Shruti Halgi, Dr Pratishthita Kuncoilenkar, Dr Siddhi Harmalkar, Dr Namrata Vengurlekar and Anita Kavlekar.
Medical Cell Chief Dr Shekhar Salkar said that she had detailed interaction with the participants. Her speech was very inspiring and she answered all queries regarding ambitious National Health Volunteers' scheme of BJP. She also explained the scheme can be taken to logical end.
Dr Shailesh Kamat and Dr Jyoti Sawant could not attend the conglomeration.