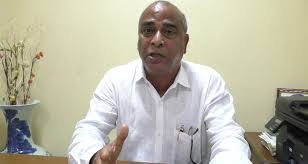 Pernem: Tourism Minister Manohar Ajgaonkar is likely to join back Maharashtrawadi Gomantak Party, a political outfit which he ditched to join BJP and enjoy the post of Deputy Chief Minister.
With BJP showing all its inclination to field Pravin Arlekar from Pernem, Ajgaonkar has been negotiating with MGP to be a part of TMC-MGP alliance from the constituency, where he had won in 2017 Assembly election.
Ajgaonkar blatantly admitting that "where there is power, there is Babu," he had joined MGP along with Deepak Pauskar. Ajgaonkar enjoyed important portfolios like Tourism and Sports and also was given the post of Deputy Chief minister.
But, off-late, the affair between Ajgaonkar and the BJP were not smooth. BJP's closeness to Arlekar, who was selected by MGP to contest from Pernem, has also not gone down well with Ajgaonkar.
Sources confirmed that once Code of Conduct comes in place, Ajgaonkar will join MGP and contest on the alliance ticket. Get set to listen good words about Mamata Banerjee and bad about BJP from Ajgaonkar soon!