Canacona: Akhil Goa Kshetriya Pagui Samaj has strongly objected to the Coastal Zone Management Plan finalized by Goa government.
The community members held meeting at Rajbaag Tarir in Canacona to discuss the issue.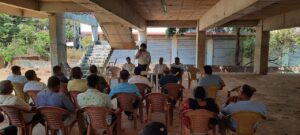 The members resolved that the plan was finalized without taking people into confidence. If this plan is finalized, it would be detrimental for the fishing community.
The meeting was attended by  Ashok Dhuri, President Akhil Goa Kshetriya Pagui Samaj Canacona, Suraj Pagui, vice president, Sopan Dhuri, Sarwanand Pagui, Lakshimikant pagui, Pritam Pagui, Chandan  Dhuri and executive members. Olencio Simoes, president GRE,  Abhay Dhuri Advisor and ex vice president of AGKP samaj,   Shekhar Pagui ex President AGKP samaj, Laxman Pagui councillor,  Divarkar Pagui advisor AGKP samaj & ex councillor, Ratnakar Dhuri ex chairperson CMC, Gandesh Madgaonkar, councillor, Rudresh Namshikar Panch, Diksha Pagi panch and other panch and Daya pagi Prashant Pagi, Uday Pagi, coastal belt villagers from Polem to Betul.