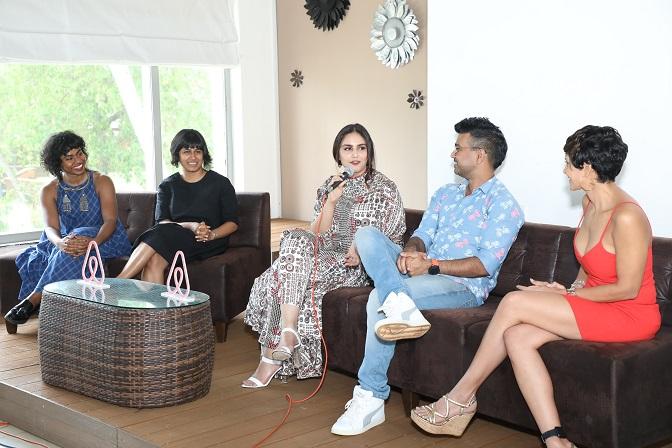 Goa: Airbnb today celebrated the launch of its recent campaign 'That's Why We Airbnb' where Hosts, guests and influencers shared their individual travel experiences. Airbnb's brand friends Mandira Bedi, Huma Qureshi and writer, photographer and travel enthusiast from Goa, Nolan Mascarenhas were joined by the heroes of the campaign.
The latest Airbnb campaign celebrates the spirit of individuality and people's love for travel. Committed to creating a world where anyone can belong anywhere, 'That's Why We Airbnb' narrates the stories of real travellers on their unique Airbnb-powered holidays across the globe.
One of the two brand films follows Malvika and Karuna on their adventure in Berlin, while the other captures the Govandes family on a vacation in Goa — Airbnb's fastest growing market in India. The concept for each of these anecdotal stories explains how 'someone like me' opts for their personally unique Airbnb, while travelling. The ease and security of having a place that feels like home, allows these travellers to assert their individuality and choose for themselves, no holds barred.
Commenting on the occasion Amanpreet Bajaj, Country Manager – Airbnb India said, "Our latest campaign 'That's Why We Airbnb' is an ode to everyone, who express their individuality through travel. Whether it's a family looking to bond in a Home that is perfect for their kind of holiday, a couple seeking a unique Airbnb Experience that completes their travels or an individual discovering themselves in a new city with the locals – it means something to everyone. For Hosts, its an opportunity to showcase their city to guests and earn a sustained extra income. That's the real beauty of Airbnb – a local Host can stay in his home city while earning a living and following their passions."
"For me travel is all about self-love, just a few dedicated moments to re-center and let calmness prevail. My career keeps me busy so when I have a little time off, I love feeling like I have the freedom to do nothing except what my heart desires. Whether it's access to outdoor space, or the convenience of preparing my own breakfast, exactly how I like it – it's nice to feel at home, no matter where I am" addedActor, Huma Qureshi.
Talking about her love for travel, Actor Mandira Bedi said, "When I think about what travel means to me, I am overcome by a sense of tranquility. Travel has always been something I associate with freedom and independence. I revel in the unknown and love immersing myself in new cultures. While I never hold back when it comes to trying something new, I treasure the safe and familiar feeling of home no matter where I am – That's why I Airbnb".
Driven by enterprising Hosts and loyal guests, Airbnb's people-powered community thrives on the prosperity of both stakeholders. As the Airbnb community grows, it continues to empower hospitality entrepreneurs to generate substantial economic benefits by simply leveraging their homes and/or passions. From empty nesters and single parents to young Hosts and homeowners with unused real estate, Airbnb has created a multitude of micro entrepreneurs across the country.