As the waters of the floods recede, a humanitarian crisis in flood hit villages of Goa becomes apparent. AAP Goa teams led by their leaders have been visiting the ground on a daily basis to help locals and provide aid to those on the ground. On the first day AAP Goa Convenor Rahul Mhambre did a survey and assessment of the damage done and the aid needed in Sattari and Valpoi, parallely Surel Tilve AAP Goa Vice President surveyed Ponda. This was followed by teams that went to various villages to distribute ration and provide assistance & even cooked food was provided in some areas. Today AAP Leader Cecille Rodriques has led a team to Valpoi while Surel Tilve is providing aid in Ponda.

AAP teams in Ponda assessed the damage and the requirements for localsand has been distributing ration & meals in flood affected areas of Khandepar Village. Adv Surel Tilve and team has also visited all houses which were affected or collapsed in floods.
"So far the Govt response has almost been non-existent. Once again we are seeing that it is only Goans who are helping each other" said Adv Surel Tilve Vice President AAP Goa
"Today we visited Shivajinagar Khadke a flood affected village in Valpoi, we donated clothes, money for food, distributed groceries, these were donated by residents from Taleigao & Tiswadi taluka  as well as Goans all over including support from Martins Courtyard Taleigao and Bombil restaurant in Panjim.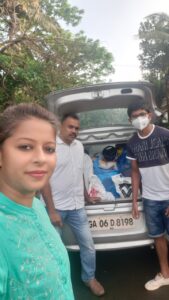 "Due to floods most of Sattari is affected. Our MLA Vishwajit Rane has only given verbal assurances of aid, as of now nothing has reached the ground." said AAP Goa leader Shubham Shivolkar from Valpoi. "All houses have lost electrical appliances and some houses are completely lost. Yet the Govt has no plan and is not willing to help.