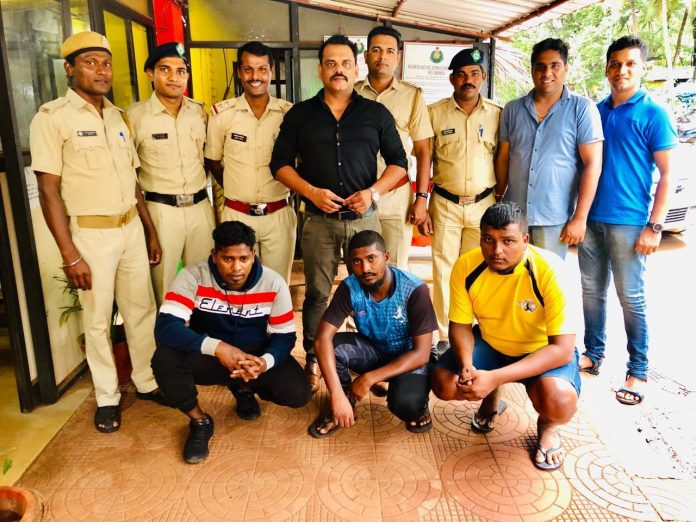 Old Goa police have arrested 03 accused persons in connection with the gruesome attack in which one of the victim had his wrist chopped off.
As per PI Jivba Dalvi today various teams were in search of the accused persons and meanwhile they received information that 03 accused persons are proceeding at Margao railway station to flee from Goa. Accordingly PI Dalvi, PSI's Shivram Gawas , Sudin Redkar, constables Mayur Asolkar, Rajat Kuttikar , Aniket Devidas rushed to railway station and nabbed the accused persons.
The three persons are identified as 1. Jack S/o Diego Oliviera, 30 yrs 2. Kamresh S/o Chandrakant Kundaikar, 26 yrs both residents of Nagali, Taleigao and 3. Manish S/o Raju Hadfadkar, 22 yrs R/o Chorao and are presently in police custody.
The 04th accused has been arrested by Panaji police and is presently in the lockup at Panaji Police station.
Both the vehicles bearing nos GA 07 Y 8771 and GA 07 V 4756 use in crime have been attached by the old Goa police.
The weapons consisting of koyta have also been identified and recovered by the police. The accused persons have burnt their own mobile phones and as such police have adduced section 201 IPC for destruction of evidence. Police attached burnt mobile Ashes during recovery panchanama.
Further investigation is in progress with PI Jivba Dalvi under supervision of SDPO Uttam Raut Dessai and SP North Smt Chandan Chowdary IPS .