Margao:  The water woes of the residents of Colmorod and surrounding areas seem to be never ending, with yet another pipeline burst at Colmorod in front of the District library. These breakdowns in water supply has become a usual phenomenon, and the authorities hardly care about the hardships faced by the people.
Today afternoon, a 200mm diameter 40+ year old pipeline burst in front of the South Goa District Library at Colmorod Margao, leaving certain parts of Colmorod and surrounding areas without water supply.
"The PWD water supply department was immediately informed to stop the wastage of water, and the concerned engineer confirmed that it was a major breakdown", Mr. Savio Coutinho stated.
Due to the rupture the road has been badly damaged, and is likely to turn into another nightmare for the residents there and the road users, Mr. Coutinho stated further.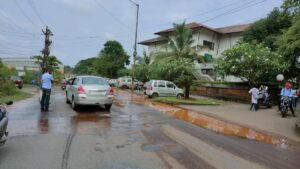 Till late in the evening, the workers were seen digging the area in search of the pipeline. The maintenance contractor at the site hoped to complete the repair work by tonight.
*"We had questioned earlier aswell, about the reasons for the repeated rupture to the pipeline line. And till today the only excuse we get to hear is that the pipeline is old. But we don't seem to get any proper justification why the people concerned are not making efforts to replace the old and outdated pipeline",* Convener of Shadow Council for Margao, Savio Coutinho lamented.
Local residents Rajesh Kerkar, Agostinho Gama, Xavier Andrade, Abhishek Sapte, Hakim Rawaltar along with SCM Convener Mr. Savio Coutinho while addressing the media *demanded that the pipeline, if unsuitable, should be immediately replaced.*
We were hopeful that the local MLA Digamber Kamat would do something about the replacement of the pipeline *knowing well that it causes repeated breakdowns causing hardships to the public. Now that his tenure is over, we can only expect a promise for the next term"*, Mr. Agostinho Gama said.