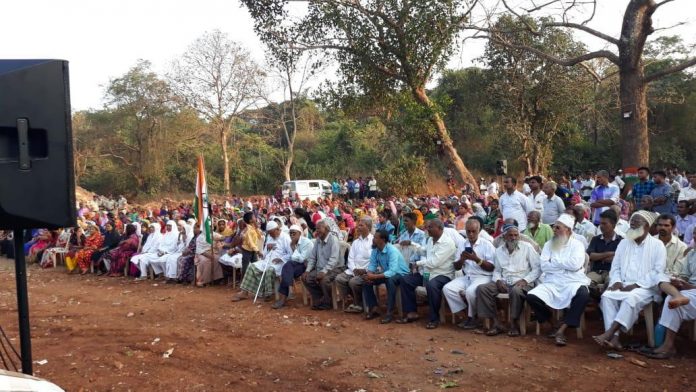 St Cruz: St Cruz residence resolved to submit memorandum to BJP MLA Mr. Tony Fernandes demanding with him to support anti CAA-NRC movement or tender his resignation as MLA at the largely attended public meeting held today at Chimbel by the residents of St. Cruz Constituency organised by St. Cruz Block Congress Committee.
Speaking at the Meeting Trajano D'mello questioned the silence of the BJP Ministers & MLA'S Silence on the illegal FIR lodged against the  Council For Peace & Justice, He said the Silence was due to the heavy Corruption cases against them would be investigated and they would be sent to Detention center. He also questioned the Silence of The Local MLA Tony Fernandes & said that he was informed at the meet that his illegal business would be stopped.
GPCC Spokesman Urfan Mulla declared that all the workers and residents of St. Cruz Constituency who had worked hard to get Tony Fernandez elected will march to Tony Fernandes residence to submit the memorandum. He said we have every right to put our demand with our MLA whom we had elected but he sold us for few crores.
Nisar Mohammad General Secretary of North Goa District Congress Committee appealed everyone not to show any documents, he said we are Indians and we don't need to prove anything to anybody. Rudolf Fernandes demanded with Government to immediately withdraw this law.
Prominent among those spoke included Mr. Rudolf Fernandez, Youth leader Miss Shinny Olieveira, Anita Kundaikar. Block President John Pereira welcomed the gathering.
GPCC President Girish Chodankar, social activist, Rama Kankonkar, Glen Cabral, Bobby Sheikh, Simon Caiado were also present.